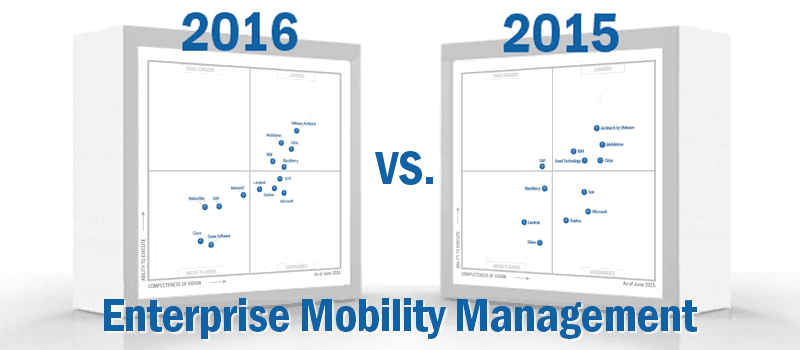 The editors at Solutions Review read the latest Gartner Magic Quadrant for Enterprise Mobility Management and analyze what's changed since the last report.
Gartner has officially released the 2016 Gartner Magic Quadrant for Enterprise Mobility Management and we have some new players added into the mix as well as the continued leaders. Gartner refers to enterprise mobility management suites as the "glue" that connects mobile devices to their enterprise infrastructure and I couldn't agree more. They estimate that the average enterprise has between eight and 15 mobile applications deployed to their employees that do more than just the traditional contact or email functions. These apps are used by employees to complete their jobs and enhance their workflow, making the need for more controls and more advanced solutions that include not only MDM and MAM, but MCM, mobile security and MI as well.
The 2017 Jamf eBook: A user-centric focus, Shaping the IT landscape
This eBook explains how IT can streamline technology practices to:
Ensure your hiring and retaining best employees
Positively impact culture
Download
It is no longer acceptable to just secure the device or just secure the apps being used by employees. Mobile is becoming more and more advanced and with that advancement comes more things to cover and bigger risks to the data. According to Gartner, what a good EMM solution does is provides a common, cross-platform baseline to set, contain, validate, enforce and update device policies for gateways, proxies, VPNs, network access controls (NACs) and certificates, application certificates, content and rights management systems, IAM, version controls, backups, system updates, and device initialization, as well as wipe and countless other practice areas that enter the mobile space from adjacent markets.
Another newer feature Gartner has taken into consideration is containment which we were hoping was included in this years magic quadrant Market Overview. This extended set of capabilities allows for the complete separation of business and personal data, often allowing for no corporate data to be stored on the device at all. While this isn't the most popular method now, it will continue to gain momentum through the coming year.
So let's take a look back to 2015. Good Technology was still in the leaders category and Globo was still a company. Gartner has replaced both Good, who was acquired by BlackBerry, and Globo with not just two, but four new entries into the magic quadrant moving the number of vendors included from 12 to 14. These newcomers are Matrix42, a Germany based company that specializes in mobile workspace management; NationSky a Beijing based company and founding member of the Global Enterprise Mobility Alliance (GEMA); Snow Software a Swedish based software asset management solution provider; and Cisco who joins the EMM Magic Quadrant after they acquired Meraki back in 2012.

Widget not in any sidebars

Other vendors featured include: VMware AirWatch, BlackBerry, Citrix, IBM, Landesk, Microsoft, MobileIron, SAP, Sophos, and SOTI.
As usual, vendors are evaluated on their completeness of vision or likely hood of future success in the EMM Market.This criteria includes market understanding, marketing strategy, sales strategy, product strategy, business model, vertical/industry strategy, innovation and geographic strategy.
They are also evaluated on their ability to execute or ability to meet the current needs of EMM buyers. The criteria includes product/service, overall viability, sales execution/pricing, market responsiveness/record, marketing execution, customer experience and operations.
Overall we are seeing these EMM solutions become more flexible and adaptable to the individual needs of the client while they continue to find ways to better manage and secure mobile devices in the enterprise. Take a look at the full report for vendor strengths and cautions, and a detailed overview of the EMM market to see which of these top solutions it the right fit for your business. 
Latest posts by Alexander K
(see all)