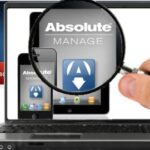 Apparently good things don't go unnoticed. This is the case when it comes to a Ken Hess article, 10 BYOD mobile device management suites you need to know, in which he compiled a list of 10 top Mobile Device Management (MDM) suite based on functionality and OS support. A list that did not include Absolute Software because of their lack of support of Blackberry and Symbian devices despite their support for PC, Mac, iOS, Windows Phone, and Android devices.
After taking a second look at Absolute after their omission from his original list, Ken admits he is glad he took that second look. He highlights a few key points in Absolutes offerings. An important one being that their solution does not force you into implementing policies that you either do not want or need and that, "Our intelligent automation technology is designed to automate your policies, not enforce ours onto your devices. You can also define layered policies as well."(Tim Williams, Director of Product Marketing). He also points out that Absolute Manage brings Mobile Application Management (MAM), Mobile Content Management (MCM), and MDM under one platform. This is convenient when addressing the argument of what is more important to manage: the applications, the content or the device itself.
Ken touches on a few more points that make Absolute Software an appealing solution, and upon his second look comes to this conclusion: "I think that Absolute's Management suite will resonate with administrators and CXOs alike. The fact that it also manages the entire computing spectrum gives Absolute a big advantage in this market. No, their software doesn't manage Blackberry and Symbian devices but who cares? They manage Android devices, Windows phones, iOS devices, Macs and PCs. What else do you need?" Read the full article and second look here for more on Absolute Software and their offerings.