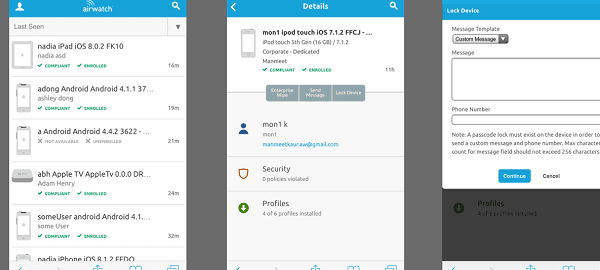 In what AirWatch is calling their biggest release since being acquired by VMware, they have announced the release of AirWatch 8. Their recent press release is laced with words like streamline, unified, integration and more, but what we can glean from the information provided is that AirWatch 8 is all about simplicity. Simplicity for the end user, simplicity for IT and simplicity for the enterprise trying to realize all the benefits that mobility can present while trying to handle the security risks it can potentially present.
AirWatch writes, "AirWatch 8 will address many of the recent mobility complexities facing organizations today. AirWatch makes the complex, constantly evolving mobility landscape simple and easy to manage by delivering the most simple and secure experience for end users and IT, unifying the management of virtually all device types and enabling the next generation of mobile applications in the enterprise." This theme of simplicity touches on a number of aspects of the enterprise mobility life cycle and implementation process included end-user and IT experiences, the divers landscape of end-user devices and usage and impact mobile applications have on the enterprise.
The simplicity that AirWatch 8 brings to the end users and IT seems to revolve around the enrollment and authentication process. If enrollment required long drawn out steps that have end users clicking through multiple screens adoption rate will simple fall. By implementing a number of easy to enroll features AirWatch 8 will make this process much simpler and streamlined. This simplicity will also reduce the number of service call IT would need to field if the process was more complicated and complex.  Here are a few of those features AirWatch 8 is bringing to the table:
Extensive alternative biometric and multi-factor authentication
A redesigned web enrollment interface to provide a more intuitive experience
The ability to pre-register Intel devices running Android to auto-enroll once a device is powered on with a persistent agent.
The number and variety of end devices entering the enterprise today can certainly be overwhelming from a management and security aspect. Employees now have the options of PCs, laptops, tablets, smartphones, rugged devices and now even wearables and the Internet of Things (IoT) are having an impact in the enterprise. AirWatch points out that many organizations will utilize different solutions to manage the different types of devices. AirWatch 8 will simplify that by offering users the ability to bring the management of all those different types of devices under one unified management system.  As application use continues to grow and change the way employees work they management of said applications will become increasingly complex. With hundreds of apps being utilized across an organization for an array of different functions understanding what and how to manage each will certainly put a strain on IT. Through simplified delivery, monitoring and management AirWatch 8 will attempt to help IT handle all the apps being utilized within their organizations. AirWatch 8 bring a number of features to application management.
New app dashboard for actionable insights.
Flexible app deployment
Reliable and automatic application reputation management and scanning.
Enhanced platform integrations
Click here to read the full release from AirWatch and for all the details around the AirWatch 8 release.