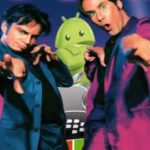 AirWatch's Mobile Device Management (MDM) solution and ForeScout's Network Access Control (NAC) solution have combined to create a bouncer for device management. Picture an iPad, Android phone and a Windows phone all standing in line outside of the Roxbury. They approach the front of the line and the iPad gets into the club with no problems, the Android phone is greeted with open arms but the bouncer shuts the door on the Windows phone and tells it to hit the road. What's up with that? It wasn't anything personal the Windows device just wasn't on the guest list.
This is essentially a Night at the Roxbury version of how the integration between AirWatch and ForeScout works. Through AirWatch's Mobile Integration Module ForeScout communicates with the MDM solution and scans for devices that have been included on a company's "guest list" for approved devices. ForeScout's NAC solution CounterACT looks for certain device attributes that will indicate the level of access a certain devices is allowed on the network. InfoWorld writes, "The attributes include the type of device, operating system, ownership, compliance status and enrollment in the AirWatch platform. When an unmanaged device tries to connect to the enterprise wireless LAN, it can be forwarded to an enrollment site."
A few of the combined features include:
Automated installation of AirWatch's MDM agent on unmanaged devices through a simple automated self-enrollment process.
Enforcement of passcode policies and strong encryption keys to protect sensitive data on mobile devices.
The ability to remotely locate, lock and fully or selectively wipe lost or stolen devices.
Security automation to dynamically detect unmanaged devices in real-time
Allow, block, limit, register as guest, segregate, and initiate device compliance inspection.
For more on the integration between AirWatch and ForeScout and a full list of available features click here to read the press release from ForeScout.