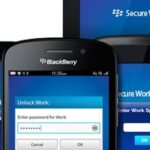 Continuing their efforts to reinvent themselves the once prominent smartphone developer, BlackBerry, is making another move to focus more of their efforts on their enterprise business. On Tuesday BlackBerry announced they will be releasing BlackBerry Enterprise Service 12 (BES12) as a new tool for business and government customers to manage mobile devices on their networks.
BES12 will unify enterprises existing platforms and provide clients with flexibility and security. Reuters reports that the release is projected for the end of 2014 and that it "will unify the existing BES10 and BES5 platforms that its clients currently use to manage mobile devices on their internal corporate and government networks." This unification of platforms will allow the enterprise to security and confidently manage older/existing blackberry devices controlled by BES5 while devices utilizing iOS and Android operating systems can be managed BES10.
Of the announcement John Sims, the head of BlackBerry's enterprise business, is quoted as saying, "With both BES5 and BES10 we have mobile device management platforms, but the breadth of functionality we provided on those was relatively narrow. We wanted to expand the platform and BES12 is positioned as the next step on that axis. We will be able to provide seamless enterprise mobility management to the whole family of BlackBerry devices, as well as much stronger capabilities in the cross platform space."
Expect to hear more announcements coming out of BlackBerry regarding the Enterprise Mobility Management (EMM) space as Reuters writes. BlackBerry is counting heavily on the success of its mobile device management offering as it charts a new course under the leadership of recently appointed Chen, who is keen to rebuild the company as more of a niche player focused on the so-called enterprise market of large corporate and government clients."
Click here to read the full article from Reuters and for more on the BES12 announcement from BlackBerry.

Matt joined Solutions Review in its early days in 2012 bringing past experiences in PR and marketing roles. Initially an editor, today Matt works closely with the editorial team while leading general marketing and operational initiatives for Solutions Review. As he has seen Solutions Review grow over the years he has also witnessed the evolution in the technologies that Solutions Review reports on.

Latest posts by Matt Adamson (see all)