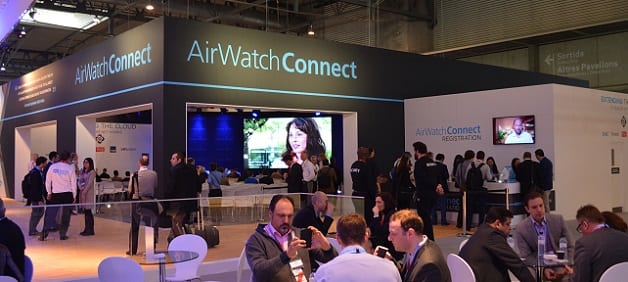 AirWatch by VMware has just made several big announcements at AirWatch Conncent, their enterprise mobility event. These announcements include improvements in mobile security, privacy, partnerships and productivity.
AirWatch Introduces the Mobile Security Alliance to Simplify Cybersecurity– AirWatch and its Mobile Security Alliance members support customers seeking to mitigate the growing mobile threat landscape by providing advanced security solutions that integrate into the AirWatch platform. Charter AirWatch Mobile Security Alliance members include Palo Alto Networks, Check Point, FireEye, Appthority, Lookout, Pradeo, Proofpoint, Skycure, Veracode and Zimperium.
AirWatch and its Mobile Security Alliance members simplify mobile security administration and remediation to enable customers with more complete and comprehensive protection against threats on any mobile device, their applications and the networks they traverse. Mobile Security Alliance members detect malicious and suspicious behavior across the mobile deployment and automatically communicate that information to AirWatch. AirWatch then takes automatic and administrator-defined compliance actions to protect the devices, user information and corporate data.
AirWatch's Mobile Security Alliance simplifies the complex advanced security ecosystem for mobility security into three categories:
Device: Includes solutions that can increase security against malware, viruses and suspicious device behaviors.
Application: Includes solutions that scan, analyze and/or validate public and private applications.
Networking: Includes solutions that provide deep analysis and remediation for traffic through networks.
New Application Innovators Support ACE to Drive Instant Mobile Productivity with Secure, Business-Ready Applications– AirWatch and 21 additional enterprise application leaders announced support of the configuration and security of public applications through native mobile OS functionality by joining ACE (App Configuration for Enterprise), a community to drive native application standards in the industry. Attendees at AirWatch Connect Atlanta can explore the ACE ecosystem and meet several partners at the ACE Pavilion at the event through Sept. 24.  Acacus Technologies, Blue Jeans, Boxer, Cotap, Element 55, Fotonotes, GoFormz, Kinvey, MightyMeeting, Movius, Nacho Cove, Roambi, Replicon, SAP, Socialcast by VMware, StarMobile, SkyGiraffe, TeamViewer, TeleMessage, Wandera and X1 support ACE.
With more than 40 committed members, ACE is quickly solidifying its place in the market as the community that is driving the adoption of device-native mobile OS standards for enterprise application development. ACE drives best practices for application management and security for easy deployment via enterprise mobility management (EMM) solutions. Once an application developer implements ACE native OS standards, users simply download the public-facing application and corporate resources are automatically configured and the user is automatically logged in, allowing the user to instantly and securely use the app in their jobs.
VMware Extends Partnership with Samsung to Include AirWatch Enterprise Mobility Management and Samsung KNOX Workspace– VMware announced two new reselling agreements with Samsung. VMware will resell Samsung KNOX Workspace globally, and Samsung Business Services, part of Samsung Electronics America, will now offer the industry-leading AirWatch by VMware Enterprise Mobility Management  Suite in the United States.
The extended partnership gives customers:
End-to-end mobile security with AirWatch Enterprise Mobility Management™ and Samsung KNOX Workspace to deliver defense-grade, hardware anchored security.
Easy and efficient enrollment with AirWatch and KNOX Mobile Enrollment, allowing IT to rapidly deploy thousands of devices from a single, intuitive management console.
Advanced application management to easily manage, secure and record public, internal and purchased apps.
VMware Welcomes SAP to ACE Community to Simplify Business Mobility– VMware announced the expansion of its relationship with SAP.  SAP and VMware plan to integrate the ACE approach to enable secure, instant deployment and login of SuccessFactors and Concur mobile applications on iOS and Android devices. The ACE community also announced today 21 new members, growing more than seven-fold since its inception in March 2015.
The ACE community showcases the first standard approach to configuring and securing apps in the enterprise. By leveraging the latest APIs available from the iOS, Android and Windows operating systems, ACE promotes and educates the use of a native development framework with the purpose of minimizing the effort for developers, enterprises and end users.  By standardizing the app configuration and security management leveraged by any EMM solution, enterprises can create a more seamless app experience for their end users and increase adoption of their mobile apps.