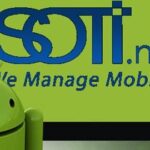 A very brief timeline of mobile devices in the work place could look something like this: Blackberry – Apple iOS – Android. Over the years enterprise mobility options have increased, and we initially saw a shift in popularity from Blackberry to iOS devices. Now with BYOD initiatives and the opportunity for employees to get the mobile user experience they want, we are seeing an increase in Android use. Recent numbers from a Strategy Analytics survey show that in the next 12 months, "enterprises worldwide are planning to purchase 44% more Android tablets and 34% more iPads".
The problem here is that it has been difficult for some enterprises to manage and secure Android devices because of the lack of common or consistent APIs for Mobile Device Management (MDM) providers to work with. With Original Equipment Manufactures (OEMs) have to build their own management and security APIs, a lot of disparity is created in functionality. This effects how, or if a MDM provider can work with each individual OEM's device.
Solution: SOTI.
In a recent press release SOTI has announced they have developed technology that can work across the board with ALL Android devices, regardless of OEM or API. SOTI claims to be bridging the gap in Android API disparity by offering the following MDM functions for all Android devices:
Full suite of Help desk tools, including real-time remote control
Secure Content Locker
Silent installation of applications and updates
Policies for controlling access to corporate email
Device Lockdown/Kiosk functionality
Location based automatic management (i.e. Geofencing)
Remote wipe of corporate data or full device wipe
EnterpriseApp Store
Self Service Management Portal
And much more…
Carl Rodrigues, President and CEO of SOTI is quoted as saying, "There is a lot of talk by the analysts these days about the need for management tools for Bring-Your-Own Device (BYOD) policies. Most MDM vendors cannot provide consistent management across all Android devices, making BYOD implementation impossible. MobiControl's unique deep management functionality across all Android devices allows IT departments to set consistent BYOD security and management policies on Android, iOS and other platforms." Read the full press release here.