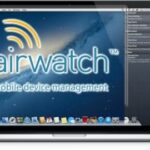 Hey IT…..BYOD!!!…..Did we scare you? Sorry, and we totally get it; different devices, different operating systems, different capabilities and different policies can make Mobile Device Management (MDM) for your enterprise a living nightmare. Airwatch is taking steps to wake you from that nightmare as they have recently announced support for Mac OS X Lion.
With continued commitment to offer multiple platform choices this new support announcement will allow for "security across both iOS and Mac OS X Lion operating systems to ensure consistent policies and profiles throughout their organization. This new update also enables organizations to manage corporate liable, employee liable (BYOD) or shared Mac OS X Lion devices throughout the entire device lifecycle."
MDM capabilities included web-based enrollment, commands to remotely lock and wipe devices, device and application list query, profile management and more. Read the entire press release here.