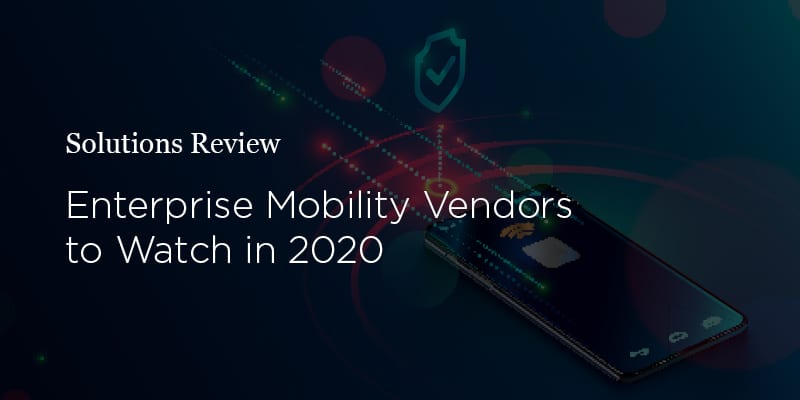 As mobile devices become more powerful, so too must mobility management tools evolve to address their new capabilities. For many companies, mobile devices are now a necessity, and having a solution to secure and control devices in your infrastructure is essential. Mobility management tools have long evolved beyond providing simple mobile device management (MDM) features, with enterprise mobility management (EMM) and unified endpoint mangaement (UEM) adding new features and compatibility. To help evaluate where the mobility management space is headed, it helps to watch the vendors who promise to deliver exciting developments in 2020.
In that spirit, we've turned our gaze to the future of mobility management. Whether it's the release of an innovative new product, a bump in venture capital, or inclusion in one of the top analyst reports, these are the providers that have earned watch list status from Solutions Review for the year ahead. The vendors are listed in alphabetical order and have specific areas of expertise.
Is your business evaluating EMM or UEM solutions to deploy this year? Our free 2020 Buyer's Guide contains profiles on the top vendors in the mobility management field and their key features and functions. It also lists questions you should ask yourself and prospective vendors before you choose a solution.
---
42Gears
42Gears is a unified endpoint management provider, offering SaaS and on-premise solutions to secure, monitor, and manage all business endpoints, including mobile devices. The company added support for Windows Autopilot and Microsoft Graph APIs, improving their support for Windows 10 devices. Gartner recognized 42Gears in their 2019 Magic Quadrant for Unified Endpoint Management Tools, listing them as the sole Visionary in the report; 42Gears was also named a Gartner Peer Insights Customer's Choice for UEM solutions.
---
BlackBerry
BlackBerry UEM is a unified endpoint management tool that combines endpoint management and policy control for enterprise device and application fleets. While BlackBerry has transitioned away from the hardware business, their strategy to focusing on mobile security products and solutions has kept the company going strong. In December 2019, BlackBerry announced that their Q3 2019 financial results were better than expected, with their acquisition of Cylance in 2018 leading to a 13 percent increase in revenue.
If you want to learn more about how you can protect your company's mobile devices, you should

check out our Mobility Management Buyer's Guide

. We profile the top vendors in the mobility management field, list their key capabilities, and note our Bottom Line for each.
Hexnode
Hexnode provides an enterprise mobility management solution that simplifies mobility across each aspect of your business, ensuring that business processes, data, systems, and employees are always connected. They've been recognized by several leading analysts during the past year as a top mobility solution. In addition to being a Gartner Peer Insights Customer's Choice winner for UEM tools, G2 recognized them as a High Performer and Momentum Leader for Fall 2019 for EMM, MDM, and mobile application management (MAM).
---
Hypori
Hypori delivers a virtual smartphone solution designed to protect enterprises from the risks associated with BYOD, providing a service that goes beyond simple EMM and UEM. Intelligent Waves, Hypori's parent company, was recently awarded a $43 million Small Business Innovation Research contract from the U.S. Department of the Interior. Through this contract, the company will help two government agencies deploy Hypori Virtual Mobile Infrastructure (VMI) into their organizations' IT portfolio.
---
Ivanti
Ivanti Unified Endpoint Manager is a unified endpoint management product that formed from the vendor's enterprise mobility management (formerly offered under the Landesk name) and client management tool. The company has recently undergone a significant shift in management, announcing seven appointments to its executive team effective January 7th, 2020. This includes the appointment of Jim Schaper, former CEO of Infor and Ivanti board member, to the position of CEO following Steve Daly's retirement.
---
Looking for more info on the benefits of enterprise mobility management? You should check out our free 2020 Mobility Management Buyer's Guide. We profile the top vendors in the mobility management field, their key capabilities, and our Bottom Line for each.
Check us out on Twitter for the latest in Enterprise Mobility news and developments!
Latest posts by Daniel Hein
(see all)