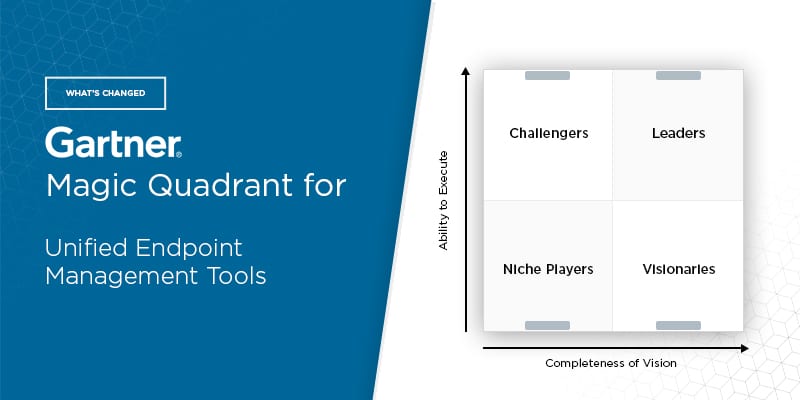 Analyst house Gartner, Inc. recently released the 2019 version of its Magic Quadrant for Unified Endpoint Management Tools.
The researcher defines unified endpoint management tools as a "set of offerings that comprise mobile device management (MDM) and modern management of traditional endpoints (PCs and Mac)." Additionally, Gartner stresses the importance of client management tool (CMT) integration in unified endpoint management tools. Indeed, UEM aims to provide enterprises with a single console for MDM and CMT, as well as a console for monitoring mobile devices and IoT devices. As part of their strategic planning assumption, Gartner predicts by 2024 70% of enterprises shall adopt unified endpoint management tools due to the proliferation of Google Chrome OS and Apple macOS.   
According to the Gartner 2019 Magic Quadrant for Unified Endpoint Management Tools, the best unified endpoint management tool providers can help enterprises link to—and assist in the migration from—existing CMT infrastructures. Indeed enterprises struggle to move away from CMT-native functions and require assistance in their transition. Further, Gartner acknowledges the importance of Unified Endpoint Management Tools' focus on mobile devices and as a part of Windows and macOS device management.
The most common UEM capabilities include MDM, management of PCs (macOS and Windows 10 required), and interaction with existing CMT infrastructures and inclusion of CMT features to facilitate the co-management of PC devices. Less common but still vital capabilities include direct management of nontraditional devices such as IoT-specific OSs and Chrome OS devices. Finally, uncommon features of unified endpoint management tools include analytic capabilities such as gathering and monitoring various telemetry from users. 
Gartner only defined the UEM market for the first time in 2018 as it witnessed a significant expansion of EMM and MDM solutions. Gartner suggests unified endpoint management tools shall continue to evolve in helping enterprises streamline their mobile device management and their transition from CMTs. 
In this Magic Quadrant report, Gartner evaluates the strengths and weaknesses of 11 providers that it considers most significant in the marketplace and provides readers with a graph (the eponymous Magic Quadrant) plotting the vendors based on their ability to execute and their completeness of vision. The graph is divided into four quadrants: niche players, challengers, visionaries, and leaders. At Solutions Review, we read the report, available here, and pulled out the key takeaways.
In the 2019 Magic Quadrant for Unified Endpoint Management Tools, Gartner did not add any new vendors. However, they announced three vendors were dropped from the Quadrant. While Gartner acknowledged numerous reasons for these vendors' exclusion, one common theme emerged: they lacked the necessary links to existing CMT infrastructure. This highlights how important this capability is to Gartner researchers and to the enterprise market overall. 
Other than these missing vendors, little changed in the positioning of the vendors included in the Quadrant. Ivanti remains the only Challenger, since the last report, it has moved further to the right in its completeness of vision. According to the description, Ivanti demonstrated a breadth of UEM offerings but notes its focus on the North American and EMEA marketplaces.    
Meanwhile, Matrix42, ManageEngine, and Snow Software still make up the Niche Players. Despite some small shifts in positioning, especially Matrix42's rise in their ability to execute, they remain relatively in the same location as in the previous report. According to Gartner, Matrix42 and ManageEngine both demonstrate limits to their CMT functionality which may have in turn limited their Quadrant movements.   
Where the Quadrant has changed is in the Visionaries and Leaders sections. Now only 42Gears stands in the Visionary section. Interestingly, the provider moved up in its ability to execute, possibly due to its innovations in augmented reality, IoT devices, and wearables.
The big news in the 2019 Magic Quadrant for Unified Endpoint Management Tools is the rise of Citrix from the Visionaries section the Leaders quad. In fact, it rose significantly to be among its competitors in both ability to execute and completeness of vision, sitting just below Blackberry in its ability to execute and to the right of MobileIron. Gartner specifically praises Citrix for its direct integration and easy-to-deploy, execution on unmanaged devices, and machine learning.  
Simultaneously, the 5 previous Leaders in the 2018 quadrant—MobileIron, BlackBerry, IBM, Microsoft, and VMware—returned to the Leader quadrant once again. Microsoft moved slightly to the left in its completeness of vision but moved higher on its ability to execute. Conversely, VMware moved down slightly on its ability to execute while also moving to the left slightly. 
However, neither moved significantly on the quadrant, as both are placed above the other Leaders on the quadrant. IBM and Blackberry rose, significantly so for the latter, but both still sit below Microsoft and VMware on the quadrant. The Leaders appear less clustered this year than last year, perhaps indicating a maturing of the market as certain capabilities take on new significance.  
Gartner finds different reasons to praise all of the Leaders. For example, Blackberry receives recognition for secure personal information management. IBM garners recognition for its CMT integration and MobileIron for innovations and authentication features. Meanwhile, VMware's rich set of migration capabilities earns it a high Leader position, as does Microsoft's own integration capabilities.
You can learn more about the 2019 Magic Quadrant for Unified Endpoint Management Tools by Gartner here.
---
Looking for more info on the benefits of mobility management? You should check out our free Mobility Management Buyer's Guide. We profile the top vendors in the mobility management field, list their key capabilities, and determine our Bottom Line for each.
Check us out on Twitter for the latest in Enterprise Mobility news and developments!
Latest posts by Ben Canner
(see all)