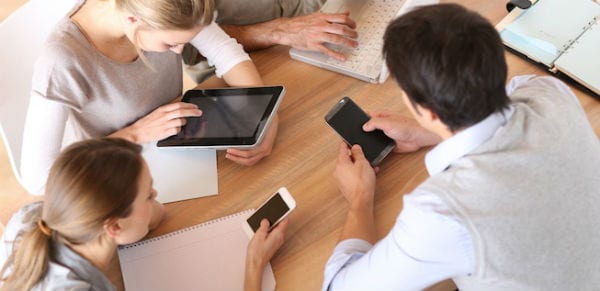 It's hard being an SMB especially when it comes to a technology budget. While enterprises more often than not have the means to purchase and deploy a mobile device management solution that works for them, SMBs can find themselves between a rock and a hard place; a mobility management solution is a necessity to your business, but you may not have the means to purchase and maintain the solution that works best for you. The good thing about being an SMB in this situation is that there are a few free tools available that can really make a big difference that you may not be aware of. Some of these tools don't come up when searching 'free mobile device management tools' so here's a quick rundown of what each of these free tools offers and where to find them.
ManageEngine
The first and most complete tool on this list is ManageEngine Desktop Central. This mobility management solution has different editions based on how big your business is and how many features you're going to need. Since most small businesses don't need top-of-the-line features, the Free Edition of Desktop Central can be a good fit because it includes most of the features the paid editions have with the number of devices being the limiting factor. The Free Edition supports up to 25 computers and 25 mobile devices.
Desktop Central is integrated desktop and mobile device management software that helps in managing servers, laptops, desktops, smartphones, and tablets from a central location. See how ManageEngine compares to the other top mobile device management solutions in our free buyer's guide.
Learn more here
iOS 9 and Android for Work
If your employees are already using iOS or Android devices, there are already built in MDM features that can be utilized for securing mobile devices. Google and Apple both want to play their part in making sure your data doesn't get stolen and so you can organize your business and your employees via mobile devices. Most of the top MDM and EMM solutions use the devices own native capabilities as a part of their solutions.
Android for Work creates a container, physically and digitally, that separates your work apps from your personal apps. What makes Android for Work different from the MDM features in iOS 9 is that it emphasizes customization and usability. They focus on keeping the data secure in a way that doesn't involve too much intervention by IT, which is also a plus for small businesses with a small IT department.
Apple's latest OS, iOS 9 has really emphasized MDM features, evident by MDM specific updates, and is emerging as a secure solution on it's own.  The iOS 9 features give IT administrators more control over employee devices by allowing them to to lock down iPhone home screen layouts, blacklist apps and enforce notification settings. iOS 9 needs a little more love from IT to be fully functional and effective, but the security is certainly there for small businesses.
While both Android for Work and iOS 9 MDM work well, they are not a replacement for an actual enterprise mobility solution. However, for small businesses, they can give the security and BYOD capabilities that may have been lacking before. You can also tack on a mobile application management (MAM) solution at a lower cost and function with just the MDM and MAM components of EMM. For a small business, this may be all you need.
Tangoe inTouch
If you're just looking for a secure way to communicate, inTouch is an enterprise mobility management (EMM) tool that allows employees to securely and easily communicate with one another. It's better than texting or using email, and automatically gives all employees all company contact information. It was originally developed for internal use, inTouch has features that make communicating with your co-workers, not only fun, but convenient too. With no involvement from IT, each user is in charge of their own contact information and can designate how and when they would like to be contacted. This completely secure messaging service allows you to send PDFs and it keeps your digital work communication separate from your digital personal information. Free and paid versions of inTouch are available through Google Play and the Apple App Store.
---
Looking for more info on the benefits of mobility management? You should check out our free Mobility Management Buyer's Guide. We profile the top vendors in the mobility management field, list their key capabilities, and determine our Bottom Line for each.
Check us out on Twitter for the latest in Enterprise Mobility news and developments!
Latest posts by Alexander K
(see all)