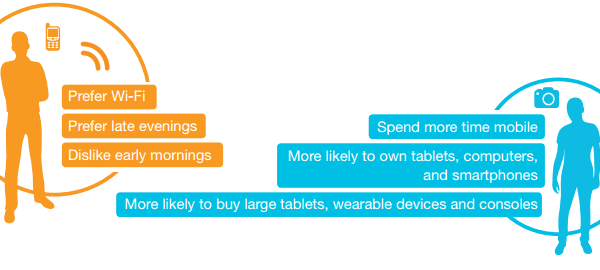 An interesting report from Aruba Networks points to an increasing risk for companies considering Bring Your Own Device (BYOD) programs and increasing enterprise mobility. That risk is the immerging group of end users Aruba is labeling as #GenMobile – "the new and rising mobile generation." The report itself questioned over 11,500 workers across 23 countries spanning a variety of industries and some of the results may send a shiver down the spins of IT professionals. The most blatant result being that #GenMobile is "somewhat indifferent to the importance of security procedures" when it comes to their mobile use and possible risk.
This suggested indifference towards mobile security does not seem to be an assumption and shows itself in the report findings. According to the report 87 percent of employees assume their IT departments will protect them from threats, and yet 31 percent admitted to losing data due to mobile device "misuse." Respondents also showed a willingness to break mobile policy and rules set up for security purposes if it would serve a greater purpose – "over half of them would disobey their boss in order to get their job done."
So who is #GenMobile? They are the up and coming workforce who has adopted mobility as part of their everyday life. The most risk is presented by those in the 25-34 age bracket with the report stating that younger employees "wreak havoc" on company security. Aruba suggests that #GenMobile has adopted a culture of sharing, openness, innovation and collaboration through mobility and communication which can have a huge impact on employee and corporate success. While this approach of sharing and collaboration certainly has its benefits, it presents immense risk and security threats if it is coupled with an apparent indifference to security.
However scary some of the results in Aruba's report may by it is by no means an attempt to have IT running for the hills. They are simply describing the current state and make up or enterprise mobility and even conclude by saying, "#GenMobile is the future of business – and that means every business. Old business models that fail to adapt to #GenMobile will slowly crumble and may ultimately not survive. The arrival of the always-on, mobile-office and #GenMobile employee is as tangible and impactful a sea of change on industry as the arrival of the Internet itself."
That may be the biggest take away from this report. This workforce, this employee, this risk taker will make up your company and be an integral part of its success so you should prepare to enable those employees. Aruba leaves us with a number of steps that you can take which will allow IT to curb some of the risk, but realize the benefits both presented by the up and coming #GenMobile. Here are a few.
Formalized security policies
Policy enforcement through the use of MDM, EMM, firewalls and policy engines
Constant measurement and monitoring of user behavior
Employee training and education
Collaboration with employees and constant feedback on policies and workflow
Click here to gain access to Aruba's full report "Securing #GenMobile: Is Your Business Running the Risk?"
Also click here to access our new 2015 Solutions Review Buyers Guide for Mobile Device Management (MDM) to better understand some of the security solutions that will help you handle #GenMobile.