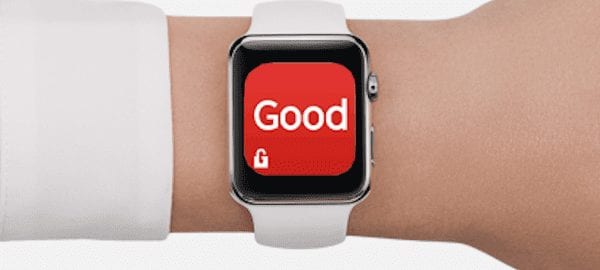 Good Technology has just announced that their enterprise mobility management app, Good Work, is now available as a native application for the Apple Watch. Although Good Work was already supported, Apple Watch users can now have the smooth native app experience and it is available immediately in the iTunes App Store.
The new capabilities include glances for new/unread email count and details on an upcoming meeting. Within the app, users can read emails on the watch and take actions, such as delete, flag or mark read/unread using the force press gesture. They can also scroll through their meetings for the day with a more detailed view that includes the organizer's picture and any meeting notes.
"Enabling enterprise mobility means securing data accessed and used on all devices, whether smartphones, tablets or wearables," said Christy Wyatt, chairman and CEO of Good Technology. "The Good Work app for Apple Watch extends our leadership in wearables, allowing greater productivity for employees while also providing complete policy controls for IT."
With this new app, Good is updating policy controls in the Good Dynamics® Secure Mobility Platform for IT to be able to customize "wear-your-own-device" programs based on the level of security that's right for their organization. IT administrators can easily enable/disable notifications and the Good Work watch app via a simple web based management console. For organizations that implement mobile device management (MDM) policies on devices, Good also supports the new Apple Watch wrist detection restriction.
Strategy Analytics forecasts total global smartwatch shipments to grow 511 percent this year, from 4.6 million units in 2014 to 28.1 million units in 2015. Most of the smartwatch growth this year is expected to come from the new Apple Watch, according to the research firm, which forecasts Apple will ship 15.4 million units worldwide in 20151. Good has already announced support for Good Work email and calendar notifications on Android Wear devices as well.
For more information about how Good is helping users and enterprises embrace the era of wearables visit https://www1.good.com/secure-mobility-solution/wearables-and-Iot.html.
See how Good Technology compares to other MDM solutions in the 2015 Gartner Magic Quardrant for Enterprise Mobility Management (EMM).
 About Good Technology
Good Technology is the leader in secure mobility, delivering solutions across all stages of the mobility lifecycle for enterprises and governments worldwide. Good offers a comprehensive, end-to-end solutions portfolio, consisting of a suite of collaboration applications, a secure mobility platform, mobile device management, unified monitoring, management and analytics, and a third-party application and partner ecosystem. More than 6,200 organizations in 189 countries use Good Technology, including 100% of the FORTUNE® 100 commercial banks and aerospace and defense firms as well as leaders across healthcare, manufacturing and retail. Learn more at www.good.com.
Statements concerning industry growth, future prospects, business outlook, and product availability and plans are forward looking statements that involve a number of uncertainties and risks. This information is intended to outline our general product direction and it should not be relied upon in making purchasing decisions. It is not a commitment, promise or legal obligation to deliver any material, code or functionality and the development, release and timing of any features or functionality described for our products remains at Good's sole discretion.