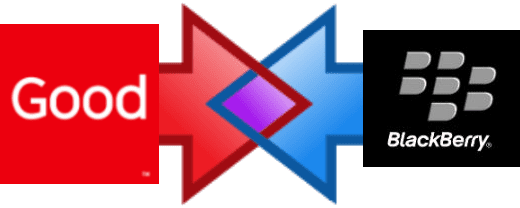 The news that BlackBerry is buying Good Technology is huge; like your favorite football player being traded to the enemy huge. In my time observing and monitoring the EMM/MDM world, I have never been more shocked and intrigued by an enterprise mobility announcement. But once that shock subsided, I was left with just one question: How?
It's no secret that BlackBerry and Good Technology, both giants in this industry, have disagreed in the past about what the other offers and certain ways of doing things. The reality is, they have pretty complementary product lines.
For BlackBerry, this acquisition makes perfect sense. BlackBerry isn't exactly synonymous with the term mobile success these days given the unpopularity of their devices. What most people don't realize is that BlackBerry, although still beating the dead device horse, is mostly focused on MDM and MAM. The truth is, BlackBerry is secure and has arguably always been one of the most secure solutions and devices. There's a reason why Kim Kardashian still conducts her most sensitive business on a BlackBerry and it's not because she likes the buttons.
Good Technology is one of the biggest EMM vendors and was doing pretty well despite the fact that they didn't have as much money as they were hoping. At first the fact that Good was willing to sell surprised me until I looked into more and realized that this is a great move for them as a company as well. BlackBerry will not be absorbing Good, they will be integrating their solutions and they will be compatible.
The general opinion of this merger is a bit skeptical. According to Jack Madden, some are thinking that this deal is just "two troubled stodgy companies trying to prop each other up."
I don't see it that way though. I believe that this partnership will be great for Good and BlackBerry, and not so great for other EMM vendors. They have the potential to dominate a significant chunk of the EMM/MDM market. While these two easily could grow too big for their own good, if they keep focused and grow with the latest mobile developments, I can see this union going well.