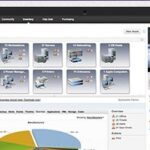 Spiceworks, the vertical network for IT that connects 2.5 million IT professionals with over 1,800 technology brands, has just announced a partnership with leading Mobile Device Management (MDM) solution provider Fiberlink to deliver their MaaS360 MDM capabilities to its many users. Spiceworks 7 will bring the ability to inventory and monitor mobile devices and applications from Spiceworks for free and upgrade to premium services from MaaS360 for additional mobile security and management capabilities to their 2.5 million users.
With Bring Your Own Device (BYOD) programs entering organizations of all sizes in waves the time for mobile security has never been greater. A May 2013 report released by Spiceworks outlines these needs as it sites that nearly 61 percent of mall-to-mid-sized businesses have BYOD programs, but that only 37 percent of those organization have implemented MDM solutions to address the new risks presented by increased mobility.
Scott Abel, co-founder and CEO of Spiceworks is quoted in a recent release as saying,  "MaaS360 is one of the highest rated, most popular MDM offerings in the Spiceworks Community so we're excited to bring these capabilities to our users and a give them the tools they need to make their Spiceworks experience even better."
Again, while initial MDM offerings through Spiceworks 7 will be free users do have the ability to upgrade their packages for more detail and indepth security capabilities from Fiberlink. Here is a quick brake down of Fiberlink's MaaS360 MDM functions available through Spiceworks 7.
Free Mobile Device Inventory and Monitoring
As part of the partnership, Spiceworks users will be able inventory and monitor mobile devices and applications on their network for free. These capabilities will allow users to:
Mobile device and application discovery – See Google Android, Apple iOS and Microsoft Windows Phone devices on their network as well as the applications running on those devices. Information on mobile device manufacturers and carriers will also be viewable from Spiceworks.
Simplified device enrollment – Enroll, inventory and monitor individual or groups of devices over the air based on Spiceworks People View and Microsoft Active Directory.
Custom alerting and monitoring – Create and customize alerts for jail-broken devices, disabled passcodes, installed applications and storage and data thresholds.
Premium Mobile Device Management Functionality
Fiberlink will provide preferred pricing for MaaS360 to Spiceworks users who need additional mobile device and application management functionality including:
Over-the-air configuration – Remotely provision and update device features, email profiles, WiFi and VPN settings.
Manage and update policies – Create and customize device policies, such as passcodes, feature restrictions and application compliance, for specific device types, groups, or ownership.
Remote support – Reset passcodes, send messages, locate, lock and selectively wipe employee devices.
Distribute applications – Deploy and centrally manage applications on select or entire groups of devices and configure them to install automatically.
Click here to read the full press releases and for more on the Fiberlink MaaS360 and Spiceworks partnership.