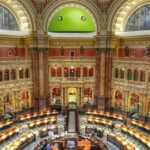 We have written about the Department Veteran's Affairs addressing their mobility strategies and initiatives and we have recently seen news about the Defense Department is looking at improving their mobility offerings. Now the latest federal agency looking at improving their mobile environment is the Library of Congress. The Library of Congress has just solicited a request for information (RFI) regarding Mobile Device Management (MDM) solution information as they are hoping to increase mobility and access to the library's data and information for employees.
To date, the library's 4,000 employees have been remotely accessing data and information through government issues mobile devices. They are hoping to increase that access by allowing employees to utilize their personal mobile devices, and obviously a solution will be needed to manage and secure current and future devices and data access. The library is also hoping that a MDM solution would allow them to offer a wider range of end devices to their employees. While it seems they are just in the informational stages with the RFI, it is the first step in a process that falls in line with what Nextgov refers to as a larger government wide initiative to become more mobile friendly.
With BYOD and employee owned devices seemingly a large part of their mobility initiatives they may need to evaluate whether MDM is the best route to take. There has been dispute as to the effectiveness of MDM with BYOD. Issues with ownership and taking over management and control of devices that an organization does not own seem to not sit will with employees. However MDM would fit well with the current and future government issued devices of which they are apparently hoping to bring more of a variety in. So what is your take and what would be use advice to the Library of Congress when I come to their mobile security and management initiatives?
You can click here to read more about this new and click here to view the actual RFI.