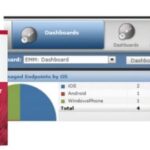 In order to handle increased enterprise mobility and Bring Your Own Device programs enterprises have been adopting Mobile Device Management solutions at a frenzied pace. These MDM solutions are implemented amongst legacy solutions that have been used to secure and manage more of the traditional and static technologies used within organizations. While necessary, these stand alone MDM solutions add to the already full plate of platforms and interfaces falling under the responsibilities of IT to manage and uphold.
McAfee has taken a swing at simplifying MDM and other Data Security responsibilities weighing IT down by fully integrating their McAfee Enterprise Mobility Management (McAfee EMM) with the McAfee ePolicy Orchestrator (McAfee ePO). The McAfee ePO software which traditionally brought advanced and scalable security management to organizations core infrastructures now offers the ability to protect their data on company-issued and employee-owned devices all through a single, unified infrastructure and console.
By combining management and security function for both core infrastructure concerns as well as emerging threats from increased enterprise mobility McAfee can clear some of the clutter and clean off the plates of IT departments. Of the news, Ari Jaaksi senior vice president and general manager of Mobile Engineering Operations at McAfee, says "Businesses are leveraging mobile technologies to deliver a competitive edge yet many organizations manage these devices separately from their core infrastructure. Every device that's connected to the Internet or that has access to an organization's network or database needs to be secured and managed. McAfee is making it easier for IT departments to see and manage their mobile footprint along with the rest of their infrastructure."
Here is a quick snapshot of some of the new feature now being offered in the single McAfee ePO software:
End-to-end security and compliance visibility from a single, unified infrastructure and console
Streamlined processes by leveraging McAfee ePO platform automation including device tagging, automated workflows, and actionable drag-and-drop dashboards
Granular policy-based security including per user, device and operating system options
Mobile monitoring, alerting, analytics, and reporting, including mobile specific reports and dashboards
Enterprise class scalability up to 25,000 devices per server and more than 100,000 devices if using load-balancing
Click here to read the full press release from McAfee.