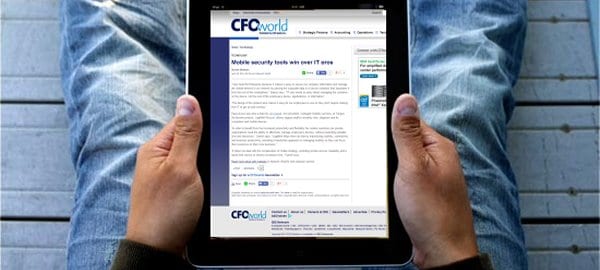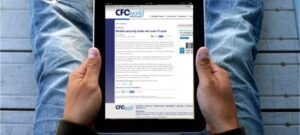 Mobile security is fast becoming a top priority for enterprise and IT executives. The explosion of mobile adoption by the consumers is causing a wave of personally owned devices in the enterprise and in its wake come security concerns. Solutions Review for Mobile Device management (MDM) has been developed to help those looking to manage those security concerns stay abreast to best practices and all the latest news around the top MDM solutions.
While our main focus is around MDM and how those solutions can help enable enterprise mobility, it is always interesting to see what other type of solutions organizations are utilizing to handle mobile security. A recent article from CFO World highlights a few solutions across MDM, data security and application use that organization are actually utilizing to enhance their enterprise mobility strategies as a whole and why they like them so much. One of the solutions is one that we are very familiar with (and we are sure you are too) and the others you might not have heard of just yet.
The first highlighted solution has been implemented at LeeSar, a healthcare supply chain company, to help secure sensitive data, evaluate application use, and block threats on employee devices. The solution is Mojave Networks cloud based mobile security offering. Brook Ellis, business analyst at LeeSar, says of the solutions, "The ability to track, lock, and limit usage of our deployed devices with this product is immeasurable. It has decreased workers' spending company money on irrelevant apps, it has increased productivity by not allowing for personal use. It has helped me to track and locate or lock and wipe stolen or lost devices."
Needham Bank, based in Massachusetts, turned to a file-sharing technology to help enable and secure mobile collaboration within the organization. Offering a mobile first interface Accellion's Kiteworks offered both the collaboration and security features the bank was looking for. James Gordon, VP of IT, said, "Keeping pace with the consumerization of IT, I was motivated to find a user-friendly solution that would enhance productivity in my workplace by allowing for the remote sharing and collaboration of information. Kiteworks by Accellion does just that."
Active Interest Media turned to an oldie but goodie in Good Technology to handle their enterprise mobility and security. Their Good for Enterprise suite has help the company secure data by implementing a containerization model. With so many employee owned devices separation of data is key for the company and Nelson Saenz, VP of IT, says "I like Good for Enterprise because it makes it easy to secure our company information and manage the mobile devices in our network by placing the corporate data in a secure container that separates it from the rest of the smartphone. IT only needs to worry about managing the container on the device, not the rest of the employee's device, applications, or information."
Even mobility services companies turn to other solutions to help with their own larger mobile strategies. VP of managed mobility services company Tangoe, Jim Carroll, touts a solution call Rescue by LogMeIn. LogMeIn Rescue allows support staff to remotely view, diagnose and fix computers and mobile devices. Carroll says. "LogMeIn helps them do that by maximizing mobility, connectivity and business productivity, providing a hands-free approach to managing mobility so they can focus their resources on their core business. It helps me deal with the complexities of mobile strategy, providing remote access capability and a hands-free service to shorten resolution time"
Click here to read the full article from CFO World and to understand how these MDM and other mobility solutions are impacting these organizations.