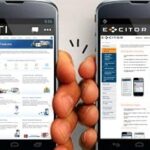 As we enter 2014 we continue to see innovation within the Mobile Device Management (MDM) space. Recently we have seen IBM's purchase of Fiberlink and their MaaS360 MDM solutions. This was followed by VMware doling out nearly $1.5 billion to acquire MDM leader AirWatch. While the financial impact may not be as staggering as the two previous examples Excitor and SOTI are continuing the consolidation tread by announcing a strategic alliance to improve their Enterprise Mobility Management (EMM) offers.
At the end of January Excitor, vendor of secure mobile containers solutions, announced with SOTI,  provider of Mobile Device Management (MDM), Mobile Content Management (MCM), Mobile Email Management (MEM), Mobile Application Management (MAM), Mobile Security Management (MSM), and to enable Bring Your Own Device (BYOD) policies in the workplace, an alliance for improved EMM. With intentions to offer more comprehensive mobility solution the alliance will bring solutions for both HTML5 and native applications across multiple platforms including Android, iOS, and on Windows Phone 8 devices.
Excitor has long been recognized for their containerization capabilities separating corporate data and personal data on mobile devices providing secure containerised mobile email, calendar, contacts and other PIM data. A recent press release from Excitor states that, "The addition of SOTI MobiControl to the portfolio enables Excitor to provide more extensive device management features and to distribute and manage non-HTML5 applications. MobiControl enables organisations to centrally manage, support, secure and track corporate-liable and employee-liable mobile devices, regardless of device type, mobile platform and location."
The alliance will help bolster both offerings who share common goals in delivering a comprehensive solution for devices with mixed personal and corporate use, regardless of whether the device is corporately or personally owned. Of the announcement, Rene Stockner, CEO of Excitor, stated, "Our focus for some time has been the delivery of a flexible, secure platform for the management of email, files, applications and intranet access. We will continue to develop DME to ensure that it remains ahead of the game. SOTI is extremely strong in the enterprise mobility management, BYOD and mobile application management environments, and we look forward to a very positive and collaborative relationship."
Click here for the full release and for more on the Excitor/SOTI announcement.