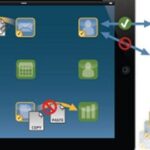 As mobile device continue to proliferate the enterprise IT department continue to struggle with the new security issues that they present. Symantec has recently announced an upgrade to their Mobility Management Suite (MMS) that aims to simplify the management and security issues that increased mobility and Bring Your Own Device (BYOD) programs bring. When Symantec's MMS solution was released in 2012 the aim was to manage and secure the devices themselves. However, with the increased use of enterprise applications beyond email function managing just the devices is no longer the only thing IT departments need to worry about.
This is something that Symantec has clearly recognized and with MMS version 4.0 Symantec is combining their traditional Mobile Device Management (MDM) capabilities with new Mobile Application Management (MAM) capabilities. The VAR Guy quotes Swarna Podila, senior manager in Symantec's Enterprise Mobility Group as saying, "We started with a device-centric approach but we quickly realized device-centric is just one of the pieces of a bigger solution. Now we're addressing all aspects of customer use cases." Again, while the new version of MMS offers device management it now offers the ability to wrap application offer management and security policies to be applied to confirmed and approved enterprise applications.
This combination allows MMS users to uphold users experience while still being able to protect application and data that employees are accessing through their mobile devices. Adding to users experience MMS 4.0 integrates single sign on (SSO) capabilities eliminating the need for users to sign in every time they attempt to access an approved application or document. They have also addressed the most commonly used mobile function in email access with a new email application that is "designed to provide the same user experience as a native e-mail application but without the risk to corporate data."
Click here to read more about Symantec's new MMS solution and how it can help IT departments get a handle on enterprise mobility.