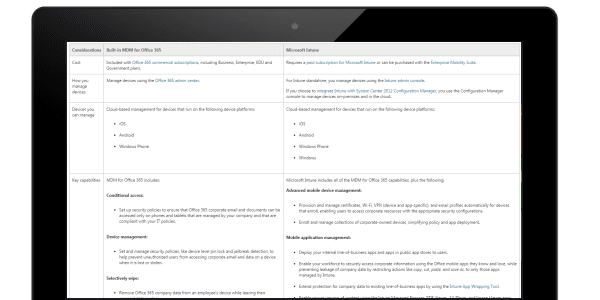 Well it seems that your choice of Mobile Device Management (MDM) options continues to grow and for Office 365 customers in business, enterprise, education and government this new option could be very fiscally sounds. On March 30th Microsoft announced that it has made good on their promise from back in October of 2014 that they would be embedding a subset of MDM features which are part of Intune directly into Office 365.
Obviously the MDM features now available for free through Office 365 will not be as robust as the stand alone mobile security features that Intune offers, but it is certainly a place to start for those using 365 and are just getting into MDM. With a strong focus on protecting email the 365 offering promises to not only address the devices but also provide security at the application and data levels across Windows, iOS and Android. So what are the main built in MDM function users of Office 365 can access?
Conditional access:Set up security policies to ensure that Office 365 corporate email and documents can be accessed only on phones and tablets that are managed by your company and that are compliant with your IT policies.
Device management: Set and manage security policies, like device level pin lock and jailbreak detection, to help prevent unauthorized users from accessing corporate email and data on a device when it is lost or stolen.
Selective wipe: Remove Office 365 company data from an employee's device while leaving their personal data in place.
For those who will need to graduate from Office 365's free offerings to a more robust MDM solution users should be aware of what else Intune offers that going beyond 365. Microsoft's Intune offers all of the above features plus full on Mobile Application Management (MAM) features as well as PC management. When it comes to upgrade MDM features Intune features all of the following. Provision and manage certificates, Wi-Fi, VPN (device and app-specific), and email profiles automatically for devices that enroll, enabling users to access corporate resources with the appropriate security configurations.
A full list and comparisons between Office 365's free MDM and Microsoft's Intune can be found here.