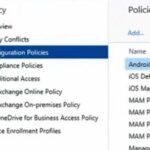 Making its debut in the first Quarter of 2015 Microsoft's Office 365 line will include Mobile Device Management (MDM) features for free. By embedding their current standalone MDM solution, Intune, in Office 365 end-users will now be able to manage devices using policies and wipe corporate data when necessary, while still preserving personal data.
Going beyond traditional MDM features, updates being made to Intune which are included in MDM for Office 360 address data at the application level. The Intune updates will offer users a way to manage their Office Mobile apps, as well as their line-of-business apps. The updates will enable more secure app viewing and control.
Vijay Kumar, senior product manager for the Office 365 team, writes in their OfficeBlog about the new MDM Office updates. "As IT administrators, you will be able to set and manage mobile device policies—such as device pin lock and jailbreak detection—directly from within the Office 365 administration portal. MDM for Office 365 will also enable you to perform a selective wipe to remove Office 365 corporate data from a device when an employee leaves your organization, while leaving personal data intact. And unlike MDM solutions that replace productivity apps with restrictive all-in-one apps for corporate email, calendars and documents, MDM for Office 365 is built directly into the productivity apps your employees know and love, so you can apply policies to help secure company data without sacrificing experience and productivity."
Click here to read more on MDM for Office 360 and other mobile security initiatives Microsoft has under way.