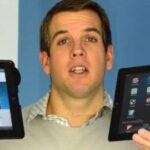 A $2 million seed funding round has just been announced for an Mobile Device Management (MDM) solution provider who is taking a targeted approach with their solutions. MokiMobility, which was founded just over a year ago, has shifted from a broad MDM approach to now offering mobile management capabilities to specific single purpose devices like the iPad. An awareness in the increased use of these devices as ordering kiosks in restaurants, or used as point-of-sale terminals at stores drove this new MDM approach as they state they offer different management issues than the more traditional enterprise mobility usage.
With more and more store and businesses look at customer facing apps, mobile kiosks, point-of-sale capabilities and self-checkout options MokiMobility's placement in the MDM world presents some great potential. One of the investors in the funding round who seems to feel the same way, Fusion-IO's Tyler Smith, is quoted as saying "There's a huge disruption going on right now, we call it the second wave of mobile adoption. Obviously with the first wave, everyone wanted to get their hands on mobile devices and take them to work. Now what we're seeing is that companies are trying to put these devices to work for commercial purposes. They're putting them in as kiosks, as retail enablement, as point-of-sale and self-checkout."
Strengthening their stance in this focused MDM space is their recent partnership with Revel Systems. The company which creates iPad Point of Sales deployments for restaurants and retail stores will integrate MokiMobility's MokiManage platform into its products. This implementation will not only improve security standards and management capabilities but offer PCI compliance as well. TechCrunch writes that, "Hitching its wagon to the Revel Systems rising star is a great move on the part of MokiMobility, and both of these companies are definitely ones to watch as more businesses adopt self-checkout and move to iPads and Android tablets for in-store sales assistance."
Click here to read more about the funding round and here to read more on the partnership between MokiMobility and Revel Systems.