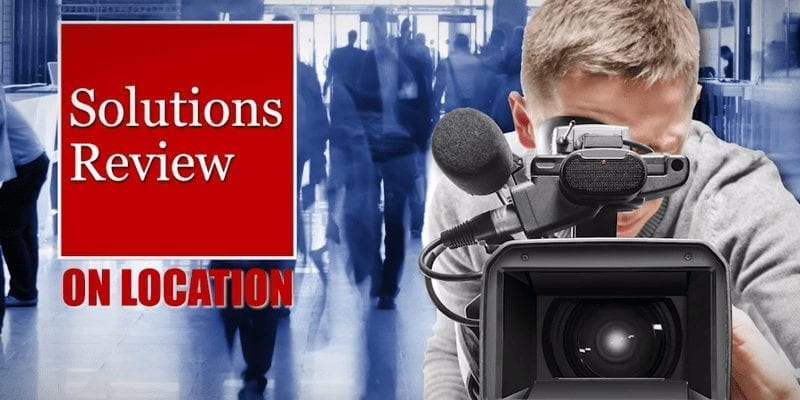 Solutions Review recently attended MobileIron LIVE! 2019 in Brooklyn and Berlin, the annual enterprise mobility, desktop, mobile management and security conference. While we recorded live on the ground at MobileIron's event, we spoke with the experts and featured speakers attending the conference. Additionally, MobileIron announced a significant release of a mobile-centric zero trust platform, tying in with the theme of zero trust mobile security that MobileIron highlighted at the conference.
Throughout our interviews at MobileIron LIVE! 2019 Berlin, we discussed major enterprise concerns including mobile security, identity, mobile strategy, and success. We asked them about enterprise mobility strategies and how enterprises can achieve success and security with their mobile management. We hope these interviews help you to learn as much as we did about the present and future of the mobility space.
Check out the full interviews below:
Simon Biddiscombe of MobileIron
Simon Biddiscombe, President and CEO of MobileIron, joins Doug Atkinson to discuss mobile device strategies; specifically, they discuss how mobility influences modern business practices and how it changes the face of cybersecurity. In other words, it changes the security paradigm as it changes the digital perimeter. Biddiscombe discusses how mobile devices can become users' identities and how they can eliminate the need for passwords. Mobile security strategies, he says, must focus on data security regardless of its location.
Gavin Chen of Wandera
Gavin Chen is the Business Development Manager at Wandera, a launch partner for MobileIron's new ecosystem initiative. Chen talked with Doug Atkinson about how enterprises can manage data usage and costs while also leveraging mobile solutions. Mobility allows employees to extend their business applications and workflows capabilities, but it also gives employees the ability to access non-essential sites and waste enterprise resources. Chen states that enterprises need to implement data and cost management policies, such as capping data usage for devices and blocking specific websites, to prevent the abuse of enterprise mobility.
Thierry Bonhomme
Thierry Bonhomme is currently a Senior Advisor for MobileIron and formerly the CEO of Orange Business Services. He sat down with Doug Atkinson to discuss mobility and digital transformation strategies for enterprises. Specifically, Bonhomme states that enterprises need to be ready to combat digital transformation risks. These risks are not just dangerous applications and threat actors, but also lack of knowledge and digital opportunities. Bonhomme believes that companies need to examine the technology, mobility and otherwise, before they fully implement it to keep the enterprise running efficiently and safely.
Rafael Kobylinski of incapptic Connect
Rafaeal Kobylinski, CEO of incapptic Connect, meets with Doug Atkinson to discuss solution development and internal application management. He details how enterprises respond to the proliferation of mobile devices by building in-house, business-to-employees applications. These applications help employees streamline their business processes. However, the abundance of mobile devices and applications creates a distribution problem at scale. An app update can take weeks before it arrives in the App Store, wasting valuable time and resources while it languishes. Additionally, Kobylinski discusses the future of application strategy and how it must accommodate enterprises' scaling.
Dan Roman of Verizon
Dan Roman of Verizon Enterprise Mobile Security sits down with Doug Atkinson to discuss the multitude of cyber threats facing businesses today; specifically, they converse on the mobile security strategies need to survive a dangerous digital environment. For example, according to Roman, enterprises must focus on visibility in their IT infrastructure and devices. Without visibility in your mobile management, it can prove difficult to quantify risk; in turn, this can make it impossible to know where to invest security funds. He also notes how mobility and applications changes communication and environments, adding new challenges to the equation.
Andy Brady of Verizon
Andy Brady is the Vice President of Enterprise Sales at Verizon. In our interview, Brady talked with Doug Atkinson about the future of Verizon, and specifically about their 5G solutions. He comments on the race to large-scale 5G deployment and how Verizon is set to launch their 5G network soon. 5G, according to Brady, allows for enterprises to fully implement IoT solutions across their infrastructure thanks to the tremendous speeds that are possible. Brady also briefly touched upon Verizon's recent report on data breach investigations and how companies can protect themselves against threat actors.
---
This article was written in collaboration with our cybersecurity editor Ben Canner.
If you want to learn more about the benefits of enterprise mobility management, you should check out our free 2019 MDM Buyer's Guide. We profile the top vendors in the mobile device management, their key capabilities, and our Bottom Line for each.
Latest posts by Daniel Hein
(see all)