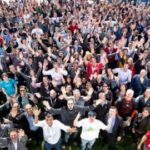 While they may not be the best fit for every organization, MobileIron and their enterprise mobile security solutions are clearly a great fit for enough companies out there. They are ending 2014 being rank number one on Deloitte's Technology Fast 500 list. This designation means that Mobile Iron grew faster than any other technology company in North America from 2009 to 2013, a cumulative growth rate of 123,678%.
MobileIron's Mobile Device Management (MDM) and Enterprise Mobility Management (EMM) capabilities enable IT to secure and manage mobile devices across multiple operating systems, providing secure corporate email, automatic device configuration, certificate-based security, and selective wipe of enterprise data for both corporate and user-owned devices.
Of the recognition MobileIron CEO, Bob Tinker, said in a recent release, "We are proud to be recognized as the fastest growing technology company in North America over the past five years. As enterprise computing shifts from the PC to mobile, we have the rare opportunity to provide the technology foundation for a huge market with no incumbent. I want to thank our customers for their confidence in us and our employees for their tremendous dedication to excellence in achieving this rare milestone."
Tinker is certainly correct in referring to their target market as "huge". Over the last few years Solutions Review has witnessed and tracked a "huge" growth within the enterprise mobility market. The consumerization of IT and the ability and need to always be connected has opened the door for companies like MobileIron to provide much needed security around that mobility. While they may have grown the most they certainly are not to only providers offering that much need security. Fiberlink's MaaS360 solution which was purchased by IBM and AirWatch purchased by VMware are two MDM/EMM providers that are continually recognized as leaders in the space by end users and IT professionals that we speak with. You can actually access this free guide that outlines some of the other options including the three listed above if you are evaluating our enterprise mobile security options.
Click here to read more on the MobileIron release and their number one ranking in Deloitte's Technology Fast 500 list.