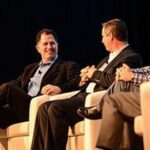 At the Dell World IT Conference 2013 held earlier this month, the computer conglomerate showcased a new mobile device management solution.  The new solution is designed to assist customers with providing increased support for mobile workers.  Dell's new offering is intended to reduce security risks and IT challenges.  Dell plans to make the Enterprise Mobility Management (EMM) solution available in the first quarter of 2014 in Canadian and U.S. markets.  The EMM solution supports setting policies for mobile devices and desktops as well.
Dell has entered the MDM market to offer a more comprehensive solution in an already crowded field.  Tom Kendra, Dell's general manager and vice president of systems management, explains the advantage of having a BYOD, management, and security solution from Dell.  Kendra believes that it is more advantageous for companies to limit their mobile vendor usage and work with one solution provider.  "There are solutions from a lot of folks.  Laptops are managed one way.  There are issued mobile devices and others for BYOD.  Enterprises that went early with MDM have Airwatch, Good and MobileIron.  The problem companies are having is that there are too many backends to manage," Kendra says.
Dell looks to offer unified mobility support through new solution
* At the Dell World Conference, executives said they intend to improve the company's software business.
* By pursuing MDM solutions, Dell hopes to take advantage of a scattered market.
* With the recent layoffs and revenue losses at BlackBerry, several technology enterprises are looking to develop their own niche in mobility management.
Although Dell is well-regarded for its computers, network switches, and software, it is less well-known as an MDM provider.  In order to have an impact on the MDM market, Dell will have to overcome this challenge.  Dell can be an impact player if their new solution adequately provides unified mobility support via cloud and SaaS.
For more information about Dell's upcoming MDM solution offering, follow this link:
https://www.zdnet.com/dell-enters-mobile-device-management-fray-7000023995/