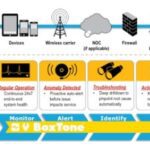 Over the past year we have seen a growth and convergence of management and security solutions to address the increase in enterprise mobility. Beginning with Mobile Device Management (MDM) we saw a shift in focus towards Mobile Application Management (MAM) and broader solutions such as Enterprise Mobility Management (EMM). Rather than disrupting and each of the other solutions there has been more of a convergence with traditional MDM solutions incorporating aspects of MAM and other EMM such as Telecomm Expense Management. In keeping with that trend Boxtone has announce the release of a new acronym that addresses another aspect of EMM and they are saying it is Complementary to Mobile Device Management.
Boxtone announced that they will be exhibiting their new Mobile Service Management (MSM) at the Gartner Symposium ITxpo 2013 which according to Boxtone, "gives IT organizations real-time visibility and automated control of their end-to-end mobile environment so they can deliver highly reliable mobile services to their workforce at lower cost and risk." The new SMS solutions is aimed at helping organization with larger scale mobile deployments by providing real-time monitoring and environment tuning provide the reliability the business requires.
A few features include:
End-to-end visibility and automated problem remediation
Assured of maximum productivity with minimal downtime
Scale successfully at the lowest total cost of ownership and lowest risk.
A link to the Boxtone Mobile Service Management offering can be followed here.