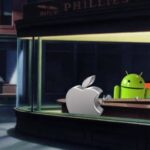 20% of enterprise BYOD projects will fail by 2016 because of IT departments' restrictive MDM solutions.  This information appears in a new special report from Gartner called "Predicts 2014: Mobile and Wireless."  To alter the potential for BYOD project failure, Gartner recommends that IT departments should allow for mobile devices that keep personal and work data separate.
"Given the control that IT has exercised over personal computers by developing and deploying images to company-managed PCs, many IT organizations will implement strong controls for mobile devices," says Ken Dulaney, VP at Gartner.
"Whether via formal BYOD programs, or just via devices coming in the back door and being configured to access corporate systems, the use of consumer technologies in the work environment presents a threat to IT control of endpoint computing resources," said Mr. Dulaney.
Gartner also predicts that through 2018, less than 0.01% of consumer mobile apps will be considered financially successful by their development teams.
Click on the following link to read more about Gartner's 2014 Mobile and Wireless predictions: