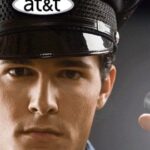 AT&T has announced the release of AT&T Mobile Security. Including device-level security, application protection, mobile device management (MDM) capabilities, network-based security controls, and encrypted transport the new offering brings protection across wireless environments and enterprise end device populations.
Ed Amoroso, Chief Security Offer for AT&T states that ""Based on what we saw in the PC-based era, we know device-level protection alone is not enough to secure the mobile environment. An effective approach to security must include network level visibility to detect threats before they reach the enterprise, so customers can confidently and safely take advantage of mobile solutions for their businesses."
This new focus on mobile security seems to be a natural progression for a company with deep experience in network security while operating in a time were we are seeing a rapid growth in enterprise mobility and new end device integration. Here is a quick list of what AT&T's security portfolio looks like with the inclusion of AT&T Mobile Security.
AT&T Mobile Security – Device protection, MDM, and mobile VPN based on Juniper Networks® Junos® Pulse, a managed SaaS service that protects the mobile devices against data theft and loss, viruses, malware and malicious applications.  AT&T network capabilities enable secure access to enterprise assets through private and encrypted tunnels, while helping to protect against botnet infection, malicious websites, and data leakage.
AT&T Toggle – Integrated security and workspace management for BYOD.  Provides full visibility and control of the device in "work" mode, while maintaining privacy on the personal side of the device.
Mobile Device Management (MDM) – Device management capabilities including remote location, lock, wipe, backup, and restore services to decrease risks associated with lost or stolen devices. Customers have access to multiple options through AT&T Mobile Security or other AT&T MDM solutions.
Mobile Application Management – Application lifecycle management including cross platform application distribution through branded channels, administrative portals, and reporting tools.
Mobility Solution Services – Mobility experts and professional services to design, build, support, and manage end-to-end solutions.
Click here to read more about AT&T's new offerings.