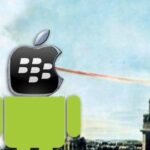 RIM's Mobile Device Management (MDM) solution Blackberry Mobile Fusion obviously supports the BlackBerry OS, BlackBerry PlayBook with future support for BlackBerry 10 devices to come. While the MDM solution's name might not suggest, Blackberry Mobile Fusion does in-fact offer management capabilities to both Android and iOS devices now as well.
In efforts to match the BYOD trend, RIM is trying to take a leadership role in offering enterprises, organizations and government agencies the ability to manage multiple devices and operating systems under one interface. RIMAustraliaenterprise marketing manager, Narelle Behn-Carey, sees BYOD as in its "still early days" but also says the movement is "inevitable". This mind set is why it is becoming absolutely necessary for MDM providers to offer management capabilities across all operating systems, and apparently RIM is now in that boat.
Research In Motion (RIM) A/NZ managing director, Matthew Ball, is quoted as saying ""BlackBerry Mobile Fusion takes the security and reliability people have come to expect from RIM into a multi-platform environment." More affirmation of RIM's capabilities and the Blackberry Mobile Fusion MDM solution can be seen in what technical account manager, Jaques Basson, says, "It brings together RIM's trusted mobile device management together with iOS and Android support into a single interface. When it comes to the enterprise and government sectors, who is better positioned to meet their needs than RIM with BlackBerry Mobile Fusion?" Read more about RIM and Blackberry Mobile Fusion here.