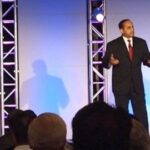 In an interesting interview, enterprise mobility analyst Kevin Benedict spoke with SAP's President and Corporate Officer Sanjay Poonen, who provided some great insight into SAP's current activities and their large focus on Mobility. With SAP offering a wide array of solution, this conversation focuses on mobility and outlines some of their activities in Mobile Device Management (MDM), Mobile Application Management (MAM), Mobile Content Management (MCM) and future endeavors in Machine to Machine (M2M) technologies.
The mobility space is growing at a rapid pace, and that is something that SAP is hugely aware of. With rebranding efforts around their mobility solutions, heavy recruitment in the mobility sector and a new SAP Mobile Apps Partner program they are clearly putting a lot of focus and effort into their mobility offerings. This focus can also be seen in their MDM solution Afaria. Benedict wrote that, "SAP is now investing significantly more resources into Afaria. SAP has nearly tripled the development investment in Afaria this year, and has been winning some big deals that are replacing other MDM vendors.  Sanjay said that in Q2, SAP also did the largest deal in the history of the MDM industry." These efforts have lead to SAP seeing a lot of interest in their solutions.
Looking into their crystal ball SAP seems to be gathering their troops to be ready for what they feel will be a big play, impacting their business greatly in M2M. Industry analysts predicting that by 2025 there will be more than 50 billion M2M connected devices in the world and Benedict writes, "SAP fully recognizes this and is organizing their forces now, has some big plans being baked in Research and Development, and they are hiring some key people from within the industry to lead the M2M effort within the company.  Expect to hear a lot from SAP on how the Internet of Things, aka M2M, will progress, shortly." Click here to read Benedict's full article and learn more about SAP's mobility activities.