The chief executive officer (CEO) is at the top of the food chain within a company. The CEO undertakes many responsibilities, such as conceiving a strategy and direction and setting the precedent for their business' principles, conduct, and culture. The chief executive is also responsible for building an executive leadership team and allocating funds to match the company's goals and priorities. Some CEOs have even more on their plate, especially those at the head of mobility management startups. Usually, they are responsible for more than just the traditional duties, and can do anything from brewing coffee to marketing their product.
Solutions Review has compiled this list of the 5 coolest mobility management CEOs based on a number of factors, including the company's market share, growth trajectory, and the impact each individual has had on its presence in what is becoming the most competitive global software market. Some of the top data and analytics CEOs have been with their respective companies since day one while others are serial entrepreneurs. But no matter their background, each CEO brings a diversity of skills and a unique perspective to the table that allows their company to thrive.
John Chen, Blackberry

John Chen is the Executive Chairman and CEO of Blackberry. He defines the company's vision and goals, sets its strategy, and ensures the team's execution matches corporate objectives. Chen has been with the company since November of 2013 and led Blackberry through pivoting from hardware icon to software leader. Prior to joining Blackberry, Chen had 30 years of engineering and management experience. He also successfully served as Chairman and CEO of Sybase Inc. for 15 years by re-inventing the company and leading it through 55 consecutive profitable quarters. Additionally, from 2012-2018, Chen served on the Board of the National Committee on U.S. China Relations.
Mike Gregoire, CA Technologies
Mike Gregoire is the CEO of CA Technologies. He has brought fiscal discipline to CA Technologies, by investing in developing, retaining, and hiring talent. Gregoire joined the company in January of 2013. Prior to joining CA Technologies, he took the California based company, Taleo from its pre-IPO phase in 2005 to its sale to Oracle Corp in 2012. Under Gregoire's leadership, Taleo's software was brought to over 5,000 corporations and 20 million end-users globally, growing the company's revenue significantly. Before that, Gregoire was executive vice president of the Global Services Group at PeopleSoft. He also serves on the Executive Council of TechNet, which is an organization of CEOs that represents the technology industry in policy issues critical to American innovation and economic competitiveness.
Satya Nadella, Microsoft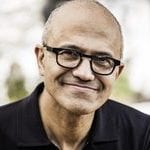 Satya Nadella is the CEO of Microsoft. Prior to being named CEO in February of 2014, Nadella held leadership roles in both consumer and enterprise businesses throughout the company. He has been with Microsoft since 1992, making himself known as a leader with a breadth of knowledge of technologies and businesses. This allowed Nadella to transform some of Microsoft's biggest product offerings. Before becoming CEO, Nadella was executive vice president of Microsoft's Cloud and Enterprise group, leading the shift to the cloud infrastructure and services business. Prior to that, he led Research and Development for the Online Services Division and was also vice president of the Microsoft Business Division.
Kris Hagerman, Sophos
Kris Hagerman is the CEO of Sophos. He is responsible for all aspects of Sophos' business operations and strategic direction. Hagerman joined the company as CEO in 2012. Prior to Sophos, Hagerman was the CEO of Corel Corporation. Before that, he was group president of data center management at Symantec. Hagerman was also executive vice president and general manager of storage and server management at Veritas Software. During his time there, the company's revenue grew significantly before its acquisition by Symantec. In addition to this, earlier in his career, Hagerman was the founder and CEO of Affinia, an online contextual advertising network.
Greg Clark, Symantec
Greg Clark is the CEO of Symantec. He has also been on the company's Board of Directors since Symantec's acquisition of Blue Coat, Inc. which was completed in August of 2016. Prior to Symantec, Clark served as the CEO of Blue Coat and was also a member of the company's board of directors since 2011. Under his leadership, Blue Coat became the top market share leader and share gainer in Web Security. Clark also has a deep knowledge of security as well as a history of successfully integrating companies into a single portfolio. Before joining Blue Coat, Clark was president and CEO of global software and services provider, Mincom. Clark also founded security software firm, Dascom, which was acquired by IBM in 1999.
Latest posts by Tess Hanna
(see all)