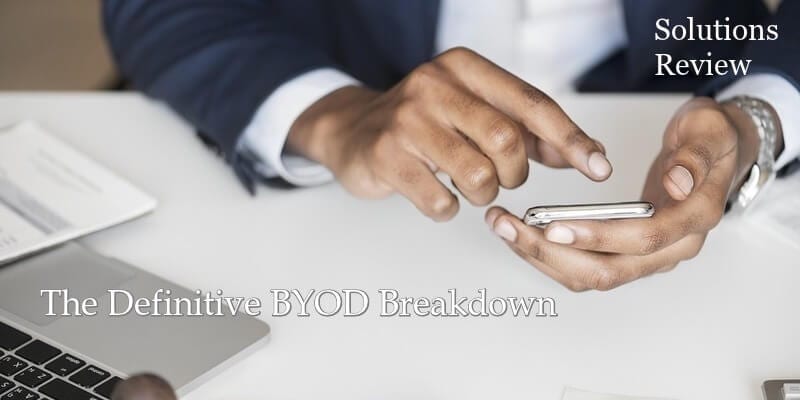 Bring Your Own Device (BYOD) policies are already entrenched in the corporate landscape, as businesses can significantly increase employee productivity and reduce overall costs if the policy is comprehensive and works for all devices. Employees are typically more comfortable using a device they have ownership over rather than one dedicated to work, which also makes the policies appealing. BYOD allows employees to use their personal devices, but what are the implications of that? We've broken down what BYOD means for you, as well as what questions to ask when developing a BYOD policy.
What are the benefits of BYOD?
BYOD comes with benefits as well as challenges for businesses and employees. For example, when using your own device, there is no need to learn how to operate a corporate issued device. In knowing their own device, employees are able to take total advantage of the features offered, thereby upping productivity.
In addition to this, with BYOD, employees typically pay for their data and other expenses associated with their devices. Because the employees are paying for their devices, they are more likely to take better care of them. As a result of this, businesses save a significant amount of money by not covering those payments. Businesses also don't have to purchases devices for each employee, let alone pay the bills for them. However, users should be aware that while BYOD policies can bring short-term cost benefits, these policies can become more expensive over time, despite the device-distribution policy.
What are the challenges of implementing a BYOD policy?
On the other side of the issue, businesses must create a full BYOD policy in order to impose regulations on employee devices. Enforcing a policy like this includes investing in educating workers on the risks and responsibilities they will have to be aware of when using their device at work. In addition to this, BYOD policies bring a greater possibility of employee error, as users can potentially use their devices on unsecured networks. This makes it easier for corporate data to be compromised.
BYOD also brings potential security risks. Because the company has less control over employee-owned devices, if these devices are lost or infected with malware, the data on said device could be compromised. A result of a device not being company owned is that in the event of loss or infection, the company may be incapable of recovering its data.
Employees also often struggle with privacy concerns. Because IT teams potentially have access to messages, emails, and contacts, employees can be suspicious of how safe their personal data actually is. IT teams have to maintain the balance of protecting company data without violating the employee's right to privacy, which is not an easy task.
With all that said, if BYOD is the best option for you and your organization, it's important to ask some preliminary questions in order to identify the needs of your business. The benefits of BYOD go out the window if the policy isn't implemented correctly. Because of this, it's essential to get all the information you can before enforcing a company-wide policy. Consider these four questions to simplify developing your strategy.
Who has access?
Without methods of access authorization, it's possible your data will become compromised, which can be catastrophic. Therefore, having the ability to ensure that the employees making use of the policy have the authorization to do so is paramount in order to maintain security. To accomplish this, you can require employees to answer a series of security questions or log in using multiple password gateways. Setting a password or access PIN is crucial in creating reliable BYOD security. Ensure that your employees set unique, non-generic passwords for each of their devices and accounts for maximum security.
In addition to this, consider including a single sign-on to verify the user's identity as part of the Enterprise Mobility Management (EMM) solution's authorization process. Being able to control application access and permissions is also critical. Mobile devices often have built-in access control capabilities. These allow security and IT teams to help users enable settings which only allow applications access to what is necessary for them to function.
What devices are being used?
Like users, devices that are a part of the BYOD policy must also be verified. Access by unauthorized devices as well as by jail-broken authorized devices should be prevented by your EMM solution. These devices bring security risks to your organization which have the potential to create financial, data, and credibility loss. By only allowing authorized devices to be used within the policy, your organization is better protected against potential threats.
Can the devices be wiped or disabled remotely?
Many network security tools provide the ability to wipe a device's data remotely in the event that it is compromised. In the event that a device is lost or stolen, IT administrators will have the ability to wipe the entire device, or just the device's corporate data, which protects the data from being compromised. To that end, in order to easily wipe devices if need be, each phone should have a device locator service downloaded. Not only will this help with finding a lost or stolen phone, but these applications often offer the ability to remotely wipe a device. In the event that a phone goes missing, this is an action that you can take as a means to ensure BYOD security. However, it is important to be aware that the way this feature is implemented, as well as the amount of IT involvement needed, differs from tool to tool.
Are any files viewed on the mobile device ever stored on the device?
With some mobile devices, when a remote session ends, any trace of the files viewed are removed from the device's storage and memory. However, with others, files can potentially be accessed by an app that has already been downloaded to the device. With this information, you have the ability to determine the level of security measures needed for employee devices.
If you are considering implementing a BYOD policy, make sure to have a complete strategy that explains workplace device protocol in place. In this policy, make note of app usage, compliance, securing data, and what will happen in the event of a device loss or employee leaving the company. BYOD is complex, but when comprehensively planned out, it can be a policy that works for your business and your employees.
Latest posts by Tess Hanna
(see all)