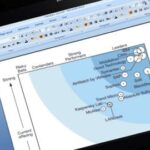 Forrester has recently release their Enterprise Mobility Management (EMM) Wave for Q3 of 2014 and our first reaction was that there seemed to be a lot of activity happening in the top right "Leader" section of the wave. So much activity in fact that 66% (10 of 15) of the solutions evaluated were labeled as leaders in the EMM space. According to Forrester these 10 providers "neatly balance OS, application, and data management functionality while providing flexible container options and productivity applications. These vendors have also demonstrated a strong vision and road map to help customers as they bring their PC and mobile management strategies together. "
A cynic may look at the results of this report, and other like it, which place solutions into buckets of winners and losers and think about how their business model works. Whether it is pay for play or a provider's marketing budget determining how far up and to the right they are, Forrester's Wave may garner some cynics based on the overwhelming amount of "Leaders" included. We are not in that cynic camp however, and think that these results can provide some interesting visibility into the state of the EMM market and the option for end users looking to secure and manage their growing enterprise mobility.
This bunching of providers in the in the Leader section shows the consolidation that we have seen in the mobility market in the past 2 years. Tech giants like IBM, Citrix and VMware have gobbled up much of the market in an attempt to round out and present a more holistic mobility suite. As seen in the purchases of Fiblerlink's MaaS360, Zenprise and AirWatch. The larger mobile security providers like Good, MobileIron and Sophos have been developing these holistic approaches to mobile security seemingly in house and it is having the same effect on their product sweets. Providers are now realizing the need for security beyond MDM and they are all now addressing Application Management, BYOD, Data Security, and Content Management each in their own way which seems to be leading to a bottle neck in the Leader category.
There will be nuances in their EMM suites but on the whole, offerings will look similar. While there are a number of options, the parody in the market seems to be dwindling. Does this leveling out indicate that the enterprise knows what they want out of mobility and are coming to a conclusion around how to approach management and security? Maybe…for right now anyways. BYOD will change the way enterprises look at mobile security. New devices like wearables and new forms of communication will change the way employees collaborate and share information ultimately leading to the need for new security and data protection.
Here is a quick rundown of who was included and where each solution provider fell.
Leaders: IBM, Citrix, MobileIron, AirWatch by VMware, Good Technology, BlackBerry, Soti, Symantec, SAP, Sophos
Strong Performers: Trend Micro, Absolute Software, LANDesk, Kaspersky Lab, McAfee