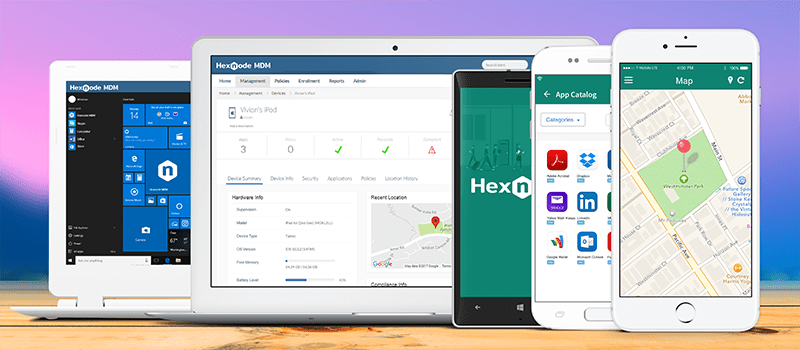 To assist you in your search for the best possible Mobile Device Management (MDM) solution, we think it's vital to dig deep into the capabilities that make up modern tools.
The number of Mobile Device Management software options available in the marketplace has exploded in recent years, making the process of selecting the best solution a cumbersome process. The sure way to make the right choice it so try out as many tools as you can to see what works and what doesn't. Unfortunately, that can be both time consuming and complex. With this in mind, here are 10 reasons to skip all of the free trials and consider Hexnode MDM:
1. Control the device every way possible
Remote view and remote control, remote lock and wipe, distribution and installation of enterprise and Store apps, ability to make decisions whether to install an app or to access a web page – all these features let you control the device every way possible.
2. Quick, scalable and easy-to-use
The platform features a simple user interface that is scalable and handles a growing number of employees and mobile devices. Device policies for all platforms can be set and associated to all devices.
3. Free product support
Hexnode provides product support at no additional cost, contrary to many of the other available offerings in the marketplace.
4. Web-based functionality, with support for legacy systems
Whether on-prem or in the cloud, the solution can be run from a web browser so that any Windows PC, regardless of system specifications, can run the on-prem version.
5. Supports all existing mobile platforms
The tool supports all currently active mobile platforms such as Android, iOS, and Windows phones. Mac and Windows PC support is on the way.
6. Remote monitoring of mobile devices
Hexnode continually tracks devices and checks whether it is within or beyond the (geo)fences, and automatically sets the devices in and out of compliance accordingly.
7. Centrally managed policies
Configure and manage everything from a centralized management hub where settings can be set and pushed to devices manually or set to roll out automatically based on conditions.
8. Security for kiosk users
Block users from using restricted apps and device features more efficiently. Once allowed apps are set, there's no way of getting to them unless the administrator allows it. Additional capabilities include the ability to change volume, brightness, allowing kiosk users to switch between wireless networks, and disabling touch and change in screen orientation. The kiosk feature is currently supported on Android and iOS devices.
9. API support and out-of-box ready
Integration with Apple's Device Enrollment Program (DEP) and the ROM enrollment option in Android enrolls Android, iOS and macOS devices automatically before it is turned on. APIs give you the flexibility to fully control your deployment by seamlessly integrating with your own tools.
10. Additional features
Hexnode offers a wide variety of features that can be helpful for users in any industry. Device Enrollment Program (DEP) and QR codes ease enrollment, and SAFE and GATE support advanced restrictions on Samsung and LG devices.
Latest posts by Tess Hanna
(see all)