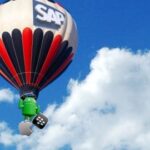 SAP is joining the likes of AirWatch, Fiberlink and MobileIron by offering their Mobile Device Management (MDM) solution Afaria in the cloud. The cloud based Afaria is aimed at improving installation speed and cost while offering the same benefits as the on-premise version.
IT departments are able to provision in-house apps and revoke privileges without limiting access to personal information while putting the more routine tasks into the hands of the employee. They are able to configure their own phones and download approved application as they please, but any actions that break policy are block and access is denied to enterprise resources.
The cloud based solution also brings an analytics dashboard from the BusinessObjects portfolio, which allows IT staff to keep track of device compliance and usage. Available for Android, iOS and Windows Phone 8 the cloud based MDM solution runs at $1.30 per device per month. SAP is by no means first in line to offer a cloud based MDM solution however the new Afaria release is the first to be approve by Amazon Web services.