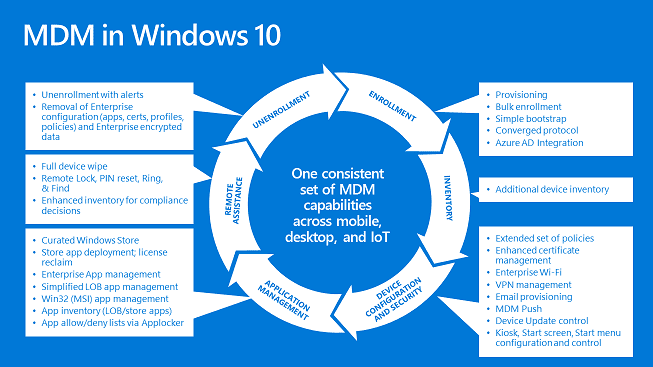 Microsoft has just released their first update for Windows 10 and it includes some new and updated features for Mobile Device Management. This update is for both PCs and tablets and Microsoft is calling it the "first major update"  with the goal being that Windows 10 appeals to  home users but enterprises and mobile enterprises as well. This update takes advantage of the new Windows as a Service updates feature that moves away from the optional updates to a more frequent and mandatory updates. Instead of large updates at certain increments, many smaller updates along with a few large one, like this update, is Microsoft's way of streamlining the update process and making sure all systems are being updated to prevent compatibility issues with later updates.
This update focuses mostly on the enterprise aspect of Windows 10 and helping IT departments better manage the devices on their network. According to TechCrunch:
Windows Update for Business, provides IT controls over the deployment of updates within their organizations, while ensuring their devices are kept current and their security needs are met, at reduced management cost. Features include setting up device groups with staggered deployments and scaling deployments with network optimizations.
Windows Store for Business provides IT a flexible way to acquire, deploy, manage and use apps – both public and private line of business. Organizations can create their own private catalog – a store within the public Business Store – where they can define the list of the public and line-of- business apps available.
These updates are the ones that businesses have been expecting. They have streamlined the right click menu for easier navigation and other aesthetic updates like Tab View in the new Microsoft browser have been added to this update as well.