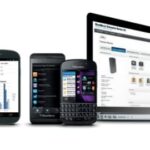 They may not be rising from the ashes like a phoenix just yet but BlackBerry has recently said that adoption and testing of their BlackBerry Enterprise Service 10 (BES) is up around 20 percent over the last six months. The news comes in the wake of a halt on the sale of the company and a shakeup in their management team and points to a large focus on their device management service as the company looks to push forward.
While BlackBerry has seen a huge decrease in their mobile market share BES 10 now brings the capability to manage iOS, Android and obviously BlackBerry devices making their enterprise security capabilities relevant once again. NDTV writes that, "recently appointed interim Chief Executive John Chen, who is keen to rebuild the company as more of a niche player focused on the so-called enterprise market of large business and corporate clients."
With the new BES 10 capabilities and their focus on the larger enterprise players continuing to adopt enterprise mobility Blackberry in clearly attempting to regain a foothold in the device management market, no matter how niche it may be. In addition to the news about their increase in BES 10 adoption and testing (risen to 30,000 users from roughly 25,000 this summer) they plan to roll out an updated 10.2 version to their clients shortly.
Click here to read more on BlackBerry's hopeful revival through MDM and BES 10.