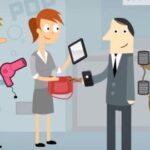 Zenprise is taking a new approach to Mobile Device Management (MDM) and highlighting strong ROI as a driving force behind MDM implementations, and not just securing BYOD initiative. Jamie Barnett, Zenprise's senior director of marketing, states that "The conversation among mobile vendors lately has been all about BYOD, and that is the bulk of our business as well, but we are also looking beyond BYOD to emphasize the advantages in putting mobile to work."
Examples of "putting mobile to work" can be see through Zenprise's customer base as they highlight a restaurant chain distributing iPads in a direct ROI initiative, an air freight logistics company distributing Samsung Galaxies with custom apps to their flight crews, and a luxury hotel arming valets with iPods to check guests in and out and identify which valet is closest to their parked cars, which can reduce wait times for car retrieval in peak hours from 20 minutes to 2-3 minutes.
This new emphasis on highlighting MDM ROI comes with the recent release of Zenprise MObileManager 7.0 and the new features that are allowing customers to realize this ROI. One major improvement is the inclusion of geo-fencing. With Zenprise Mobile Manager 7.0 organizations can take action in the event a device is removed from a specific location. This is especially valuable for those that need to tie mobile devices to a location, such as hospitals that distribute tablets to doctors and nurses to aid in patient care.
The release of MobileManager 7.0 is integrated with the Samsung SAFE program, and brings a new configurable dashboard that allow administrators to take one-click actions such as track, notify, and enroll. This ease of management also carries over to the end user with new simplified enrollment that combines the highest level of security with the most streamlined user experience.
Barnett says, "This makes it simpler for both admins and users. It delivers a configurable dashboard for admins to allow one click action, which is unique in the industry. And for end users, enhancing enrolment makes it simpler for them and secure for IT. Customers are excited about the ability to take one-click action on an administrative dashboard." Click here to read the full release and to learn more about Zenprise MobileManager 7.0