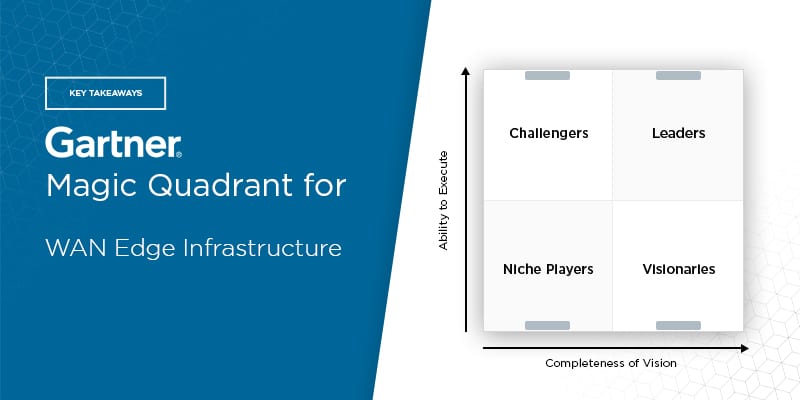 The editors at Solutions Review highlight the key takeaways from the 2020 Magic Quadrant for WAN Edge Infrastructure and provide analysis of the report.
Analyst house Gartner, Inc. recently released the inaugural version of its Magic Quadrant for WAN Edge Infrastructure. WAN edge functionality is currently shifting from dedicated routing, security, and WAN optimization appliances to feature-rich SD-WAN.
Gartner defines WAN edge infrastructure as "WAN edge products that provide network connectivity from distributed enterprise locations to access resources in private and public data centers, as well as Infrastructure as a Service (IaaS) and Software as a Service (SaaS). It is typically procured by senior networking leaders in the infrastructure and operations (I&O) organization and increasingly senior security leaders. This market is evolving from traditional branch routers — often called "customer edge routers" in Multiprotocol Label Switching (MPLS) implementations — used to connect branch locations to the data center to a more decentralized architecture with cloud workloads. It is undergoing dramatic change, driven by the needs of digital business transformation and the demands of line of business (LOB) managers."
In this Magic Quadrant, Gartner evaluates the strengths and weaknesses of 17 providers that it considers most significant in the marketplace and provides readers with a graph (the Magic Quadrant) plotting the vendors based on their ability to execute and their completeness of vision. The 17 vendors Gartner analyzed in this report are Barracuda, Cisco, Citrix, Cradlepoint, FatPipe Networks Fortinet, HPE (Aruba), Huawei, Juniper Networks, Nuage Networks, Palo Alto Networks (CloudGenix), Peplink, Riverbed, Silver Peak, Teldat, Versa Networks, and VMWare. The graph is divided into four quadrants: niche players, challengers, visionaries, and leaders.
At Solutions Review, we read the report, available here, and pulled out the key takeaways.
Of the six vendors that Gartner named to the Leaders quadrant, VMware was ranked highest in both ability to execute and completeness of vision. Gartner highlighted VMware's roadmap that promised increased security and analytics capabilities that are strongly aligned with customer needs. The analysts named Fortinet one of the most capable security solutions of the report, and while it is primarily a security vendor, it also providers a full-fledged SD-WAN deployment. Versa Networks' VOS and Titan solutions offer both comprehensive security and networking and a simpler cloud-based solution for easier user experiences.
Cisco offers two SD-WAN solutions, one powered by Viptela and one powered by Meraki; these solutions, combined with Cisco's global recognition and install base, makes them a powerful juggernaut in the space. Palo Alto Networks, through its acquisition of CloudGenix, has increased the vendor's SD-WAN capabilities and strengthened its already-high customer experience ratings. Silver Peak, the final Leader of the Quadrant, has strong optimization features, including WAN optimization, SaaS acceleration, and voice optimization; however, the recent announcement that HPE intends to acquire Silver Peak may change its standing in future reports.
You need to ensure your network is performing well at all times. Our Network Monitoring Buyer's Guide contains profiles on the top network performance monitoring vendors, as well as questions you should ask providers and yourself before buying. We also offer a Free and Open Source Network Monitoring Buyer's Guide if you're a small business or have a tighter budget but still want enterprise-grade monitoring for business networks.
Gartner complimented HPE, one of the two Visionaries of this Magic Quadrant, on its operational agility and flexibility through the Aruba SD-Branch, with the report mentioning that HPE's Aruba has "the potential to change the WAN conversation." The other Visionary in the report is Juniper Networks, which provides self-driving WAN assurance capabilities for the edge that match customer needs. Citrix and Huawei fill the Challengers Quadrant, with Citrix expanding cloud orchestration capabilities to enable simpler user access to cloud-based workloads and Huawei delivering balanced WAN edge and 5G products in China as well as LATAM and EMEA countries.
As expected, Gartner's seven Niche Players round out the report with a wide breadth of capabilities and market presence. Nuage Networks operates globally and offers its SD-WAN products through service provider partners. Cardlepoint primarily delivers wireless WAN connections and has strong vertical-focused capabilities. Barracuda has low market visibility and experience but offers comprehensive security through its SD-WAN offerings.
While FatPipe largely focuses on the U.S. market and has limited experience with large-scale WANs, Gartner highlighted its strong path selection capabilities and deployment flexibility. Riverbed's SteelConnect EX delivers a fully-functional and comprehensive SD-WAN offering but solutions are limited to Versa VOS-based products. Teldat focuses primarily on European and LATAM regions, yet it has competitive prices and successful large-scale WANs in more than 1,000 locations. Finally, Hong Kong-based Peplink targets small and midsize businesses as well as specialized use cases such as transportation, public safety, and broadcasting.
---
Looking for a solution to help you improve your network performance? Our Network Monitoring Buyer's Guide contains profiles on the top network performance monitor vendors, as well as questions you should ask providers and yourself before buying.
Check us out on Twitter for the latest in Network Monitoring news and developments!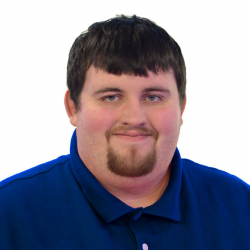 Latest posts by Daniel Hein
(see all)