We listed the best books on Amazon that network administrators should consider adding to their reading list.
Monitoring IT and network resources is a critical task for network administrators that need to maintain service levels for clients. To keep up with the rising demands of customers for satisfying Internet-delivered services, ensuring your network and IT infrastructure are performing properly is a top priority. There are few resources that can match the in-depth, comprehensive detail of one of the best books on Amazon for network administrators.
The editors at Solutions Review have done much of the work for you, curating this list of the best books for network administrators on Amazon. These titles have been selected based on the total number and quality of reader user reviews and ability to add business value. Each of the titles listed in this compilation meets a minimum criteria of a 4-star-or-better ranking.
Below, you will find a library of titles from recognized industry analysts, experienced practitioners, and subject matter experts spanning the depths of IT and network monitoring and management. This compilation includes publications for practitioners of all skill levels.
Note: Titles are listed in no particular order.
6 Books on Amazon for Network Administrators
---
OUR TAKE:
This is the third edition of this volume, which covers DevOps strategies and how network and system administrators can apply them. It was revised with updates and clarifications based on reader feedback, and also includes new information.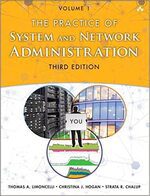 Description: The third edition of The Practice of System and Network Administration innovates yet again! Revised with thousands of updates and clarifications based on reader feedback, this new edition also incorporates DevOps strategies even for non-DevOps environments. Whether you use Linux, Unix, or Windows, this new edition describes the essential practices previously handed down only from mentor to protégé. This wonderfully lucid, often funny cornucopia of information introduces beginners to advanced frameworks valuable for their entire career, yet is structured to help even experts through difficult projects. Other books tell you what commands to type. This book teaches you the cross-platform strategies that are timeless! No vague "management speak" or empty platitudes. This comprehensive guide provides real solutions that prevent these problems and more!
---
OUR TAKE:
The author, Slawek Ligus, has a background in web operations and service-oriented architectures. The book takes a statistical approach to monitoring and alerting and is recommended for both novices and experts alike.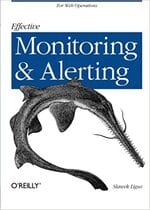 Description: With this practical book, you'll discover how to catch complications in your distributed system before they develop into costly problems. Based on his extensive experience in systems ops at large technology companies, author Slawek Ligus describes an effective data-driven approach for monitoring and alerting that enables you to maintain high availability and deliver a high quality of service. Learn methods for measuring state changes and data flow in your system, and set up alerts to help you recover quickly from problems when they do arise. If you're a system operator waging the daily battle to provide the best performance at the lowest cost, this book is for you. Slawek is a systems and software engineer with a background in web operations and service-oriented architectures. He specializes in implementing solutions to tough problems in large-scale information systems.
---
OUR TAKE:
Author Bongsik Shin teaches Management Information Systems at San Diego State University, previously teaching at University of Nebraska Omaha. This book also includes instructor materials and hands-on assignments based on Cisco's Packet Tracer program.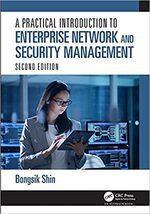 Description: A Practical Introduction to Enterprise Network and Security Management, Second Edition, provides a balanced understanding of introductory and advanced subjects in both computer networking and cybersecurity. Although much of the focus is on technical concepts, managerial issues related to enterprise network and security planning and design are explained from a practitioner's perspective. Because of the critical importance of cybersecurity in today's enterprise networks, security-related issues are explained throughout the book, and four chapters are dedicated to fundamental knowledge. Challenging concepts are explained so readers can follow through with careful reading. This book is written for those who are self-studying or studying information systems or computer science in a classroom setting. If used for a course, it has enough material for a semester or a quarter.
---
OUR TAKE: This book features extensive criteria grounded in past and current successful projects and activities, and also contains additional resources like digital PDF versions of the book and a Self-Assessment Excel Dashboard.
Description: This extraordinary IT Monitoring Gaps self-assessment will make you the principal IT Monitoring Gaps domain visionary by revealing just what you need to know to be fluent and ready for any IT Monitoring Gaps challenge. How do I reduce the effort in the IT Monitoring Gaps work to be done to get problems solved? How can I ensure that plans of action include every IT Monitoring Gaps task and that every IT Monitoring Gaps outcome is in place? How will I save time investigating strategic and tactical options and ensuring IT Monitoring Gaps costs are low? How can I deliver tailored IT Monitoring Gaps advice instantly with structured going-forward plans? Blokdyk ensures all IT Monitoring Gaps essentials are covered, from every angle: the IT Monitoring Gaps self-assessment shows succinctly and clearly that what needs to be clarified to organize the required activities and processes so that IT Monitoring Gaps outcomes are achieved.
---
OUR TAKE:
This second edition adds coverage areas that reflect the evolving software-defined networking field, including the OpenDaylight controller, NETCONF, expanded coverage of NFV, and the 1.5.1 version of the OpenFlow specificiation.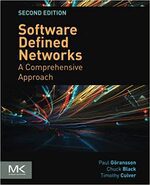 Description: Software Defined Networks: A Comprehensive Approach, Second Edition provides in-depth coverage of the technologies collectively known as Software Defined Networking (SDN). The book shows how to explain to business decision-makers the benefits and risks in shifting parts of a network to the SDN model, when to integrate SDN technologies in a network, and how to develop or acquire SDN applications. In addition, the book emphasizes the parts of the technology that encourage opening up the network, providing treatment for alternative approaches to SDN that expand the definition of SDN as networking vendors adopt traits of SDN to their existing solutions. Since the first edition was published, the SDN market has matured, and is being gradually integrated and morphed into something more compatible with mainstream networking vendors.
---
OUR TAKE: Included in this book is an IT Infrastructure And Business Application Monitoring Self-Assessment tool that allows readers to develop dynamically prioritized, projects-ready resources with the knowledge contained in the book.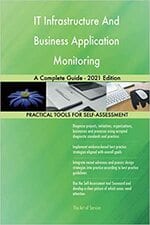 Description: This IT Infrastructure And Business Application Monitoring Guide is unlike books you're used to. If you're looking for a textbook, this might not be for you. This book and its included digital components is for you who understands the importance of asking great questions. This gives you the questions to uncover the IT Infrastructure And Business Application Monitoring challenges you're facing and generate better solutions to solve those problems. Defining, designing, creating, and implementing a process to solve a challenge or meet an objective is the most valuable role… In EVERY group, company, organization and department. Unless you're talking a one-time, single-use project, there should be a process. That process needs to be designed by someone with a complex enough perspective to ask the right questions. Someone capable of asking the right questions and step back and say, 'What are we really trying to accomplish here? And is there a different way to look at it?'
---
BOOK TITLE:

Foundation of IT Operations Management
OUR TAKE: Written by Prafull Verma and Kaylan Kumar, two IT professionals with decades-long careers, this book is an excellent resource for learning about IT and service event monitoring at a high level.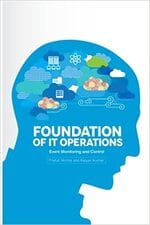 Description: In IT operations, event monitoring and control – where you continuously monitor the health of IT infrastructure and take proactive measures to prevent interruptions in IT services- is dominated by tools and technology but there is a meticulous process behind it. This book, written by Prafull Verma and Kaylan Kumar, tries to demystify the underlying process for this kind of operation management. There are lot many books on service management but those books do not cover this subject adequately and leave this area to be addressed by tools and technology. Tools vendors, on the other hand, focus on the tool part, leaving the process aspect to the service management professionals. This book fills in the void and connects both, the process and the tools to provide a holistic view. The book takes an educative tone and written primarily for IT generalists and not for the tool experts, although it would give a new perspective to tool experts also.
---
Solutions Review participates in affiliate programs. We may make a small commission from products purchased through this resource.
---
Looking for a solution to help you improve your network performance? Our Network Monitoring Buyer's Guide contains profiles on the top network performance monitor vendors, as well as questions you should ask providers and yourself before buying.
Check us out on Twitter for the latest in Network Monitoring news and developments!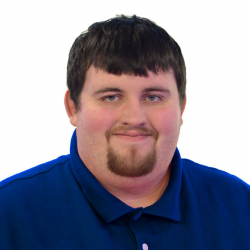 Latest posts by Daniel Hein
(see all)