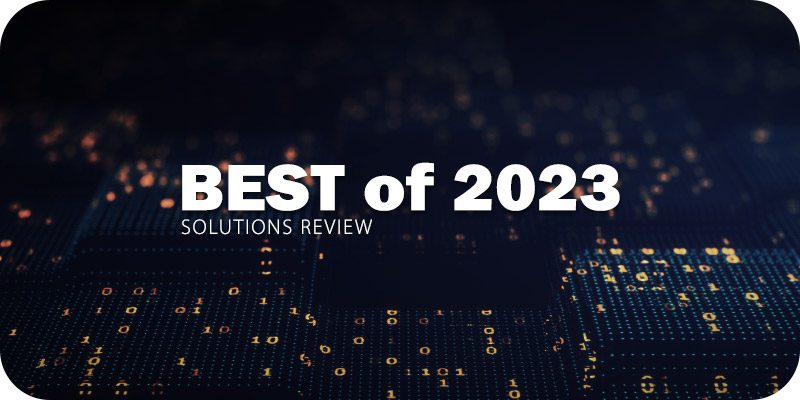 Solutions Review's listing of the best digital experience management vendors is an annual mashup of products that best represent current market conditions, according to the crowd. Our editors selected the best digital experience management software based on each solution's Authority Score; a meta-analysis of real user sentiment through the web's most trusted business software review sites and our own proprietary five-point inclusion criteria.
The editors at Solutions Review have developed this resource to assist buyers in search of the best digital experience management software to fit the needs of their organization. Choosing the right vendor and solution can be a complicated process — one that requires in-depth research and often comes down to more than just the solution and its technical capabilities. To make your search a little easier, we've profiled the best digital experience management software all in one place. We've also included platform and product line names and introductory software tutorials straight from the source so you can see each solution in action.
Note: Companies are listed in alphabetical order.
The Best Digital Experience Management Vendors
AppDynamics is a digital experience management provider that focuses on end user monitoring (EUM) and tracking business transactions. The company's tool helps users create better customer experiences by automatically capturing errors, crashes, network requests, and page load details, among other metrics. AppDynamics also provides users with insights on how third-party APIs and content services are impacting end user performance; this gives companies more leverage to enforce service level agreements (SLAs).
AppNeta is an IT monitoring vendor that offers multiple monitoring and management solutions through a unified SaaS platform, including digital experience management. The vendor's DEM capabilities focus on SaaS and web applications and include synthetic transaction monitoring, continuous baselining of applications, and proactive performance alerts. AppNeta allows users to monitor apps and app delivery paths from behind the firewall or from global locations, as well as discover the impact that DNS has on user experience of their apps.
Aternity, a Riverbed company, is a digital experience management company that delivers insights into self-healing and visibility into the end user experience of enterprise cloud, SaaS, and mobile apps. The company's monitoring solution isolates causes of delays to networks, devices, and app backends to diagnose and resolve user-impacting issues. Aternity tracks usage and experience over time for users to continuously improve performance and streamline investments, boosting customer satisfaction and optimizing user productivity.
Catchpoint is a digital experience management platform that concentrates on improving end user experience visibility and resolving issues quickly. The platform eliminates blind spots in a user's infrastructure by collecting both synthetic and real-user measurements and testing all components impacting end user experience with pre-built or custom monitors. Catchpoint users can model and validate end user performance for conducting A/B tests for new releases, comparing CDN vendors, and expanding into emerging markets.
Datadog Synthetics is a digital experience management tool that provides end-to-end visibility across the stack in a single platform. Datadog alerts users on the global performance and availability of endpoints, monitors and maintains user SLAs, and validates HTTP requests to user services. Synthetics comes equipped with out-of-the-box integration with APM, infrastructure, and logs. The vendor monitors critical business transactions and user journeys via fully hosted, automated tests that ensure that important user experiences are preserved.
Dynatrace is a comprehensive management solution that includes several digital experience monitoring and management capabilities. The platform helps clients to optimize user experience across all applications and know the business impact of every digital experience. Dynatrace provides 360-degree view into all user activity from every mobile and web applications across all devices and browsers; with the Dynatrace platform, users gain real time AI-based analysis on user data to assess satisfaction and detect struggles.
Lakeside SysTrack is a digital experience management tool that helps users reduce costs and improve end user experience. The product gathers and analyzes data on everything that may impact end user experience and business productivity, gathering over 10,000 data points every 15 seconds from each endpoint on your environment. With SysTrack, users can lower the volume of help desk tickets, identify over and under-provisioning, select the best-fit technology for their environment, track SLA performance, and measure the performance of projects.
The Micro Focus AppPulse Suite is a collection of digital experience management solutions that deliver synthetic, real-user, and diagnostic monitoring for improving UX and business decisions. AppPulse Active uses synthetic monitoring to proactively emulate real user performance and availability information. AppPulse Mobile tracks the digital user experience and provides a single, meaningful UX score. AppPulse Web reduces triage time and cost by identifying availability issues with web apps.
New Relic Synthetics is a digital experience management tool that lets users monitor and test apps and address issues before they affect end users. The platform ensures that important transactions are taking place error-free with customized testing. New Relic delivers troubleshooting metrics to resolve problems with apps, notifying users when something goes wrong and pointing out exactly what needs to be fixed. Testing occurs from the beginning stages of app and service development through testing, deployment, and beyond.
The Nexthink Digital Employee Experience Platform is a digital experience management solution that supports the end-to-end management and monitoring of employee experience. The platform provides everything users need for measuring, monitoring, and improving digital employee experience. Nexthink collects and aggregates real-time data from all endpoints, facilitates automated remediation that scales from individual devices to thousands of endpoints, and provides high-level metrics for instant visibility and continuous improvement.
ThousandEyes Endpoint Agent is a digital experience management solution that allows users to triage application experience and network connectivity with live data from end user laptops and desktops for any browser-based app. Endpoint Agents collect live end user experience monitoring data from end user laptops and desktops, providing insight into individual user sessions. ThousandEyes can pinpoint issues through end user monitoring affecting multiple users within branch offices such as routing misconfigurations and wireless issues.