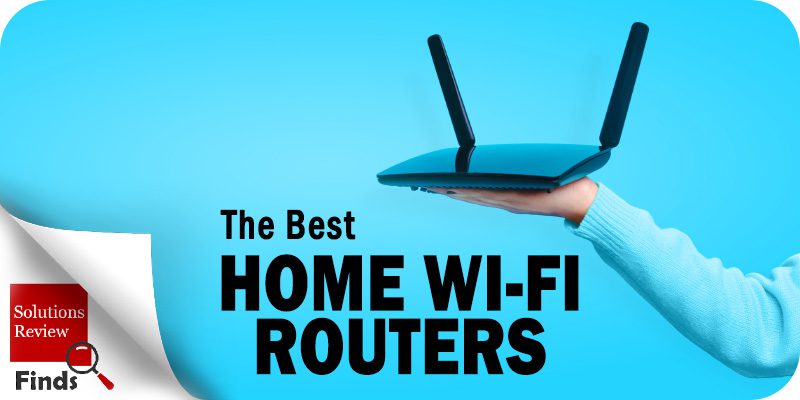 For each Solutions Review Finds post, our site editors shop for the best products, sift through the reviews, measure the top sellers and report back with our picks.
Here are the Best Routers for home users to consider.
Finding the right router for connecting to the Internet in your home can be a tricky task. Every home has its own special needs for Wi-Fi access, including coverage area, speed requirements, and capacity requirements. As such, vendors have inundated storefronts with network hardware, including Wi-Fi routers, in an attempt to capture the ever-growing Wi-Fi market and attract home users. The recent launch and introduction of 802.11ax (or Wi-Fi 6) has only further complicated the Wi-Fi device landscape, as hardware provides (both top names and newcomers) are rapidly developing and deploying newer models that support the new standard. With all these routers available, this raises the question: which Wi-Fi router is right for your home users?
There are several Wi-Fi routers on the market, including devices geared for both general and specialized use. With so many options available, it can be difficult to determine which router is right for your needs. To that end, we've listed five of the top Wi-Fi routers currently available, including their key features, strengths and weaknesses, and improvements over previous models. We've also included links to each Wi-Fi router so you can further compare devices.
TP-LINK ARCHER AX50
OVERVIEW: The

TP-Link AX1750

, also known as the Archer AX50, brings the latest Wi-Fi standard and features to your home. Voted the best Wi-Fi router by Wirecutter, the Archer AX50 supports 802.11ax (commonly known as Wi-Fi 6) — the latest Wi-Fi standard that delivers faster speed, higher security, and better device capacity. With features like parental controls, bandwidth management, Tether app management, and a built-in media server, users can easily set up a powerful home Wi-Fi network that can support everybody in the house. This router is also backwards compatible with previous Wi-Fi generations to ensure that older devices and hardware won't be left behind.
PROS
Dual-core CPU for boosted signal strength.
Secure VPN access via OpenVPN and PPTP VPN.
Supports TP-Link HomeCare for device security.
CONS
Full features require TP-Link HomeCare subscription.
Range isn't as high as other routers.
No cooling fans; overheating is a concern.
OUR TAKE: The Archer AX50 is a top choice for customers looking to bring Wi-Fi 6 into their homes. TP-Link ranked the highest in customer satisfaction for wireless routers in a survey by J.D. Power in both 2017 and 2019. TP-Link manufactures its products in-house rather than relying on outside facilities, so you can rest assured that all access points pass TP-Link's quality assurance standards. Word of caution: ensure you can place the Archer AX50 in a well-ventilated place to avoid overheating. For those on a tighter budget, TP-Link's last-gen router AC1750 (Archer C7) is still a solid choice despite lacking the features of Wi-Fi 6.
NETGEAR NIGHTHAWK R7000
OVERVIEW: Operating since 1996, NETGEAR has been a dominant force in the networking field with several routers and access points on offer for home and business users. With its dual-band gigabit technology and dual-core 1GHz processor, the NETGEAR Nighthawk R7000 offers fast Internet speeds for all your devices and network traffic, including streaming, gaming, and video conferencing. The router is supported by NETGEAR Armor powered by BitDefender, giving users access to security and device protection capabilities backed by native VPN integration and easy management through a mobile app. The Nighthawk R7000 supports Vera smart home automation services and can even be managed by voice controls via Amazon Alexa.
PROS
Support for up to 30 simultaneous devices.
Up to 1800 square feet of wireless coverage.
Amazon Alexa and Vera support.
CONS
Connection not always reliable.
NETGEAR customer support not rated highly.
Some parental controls locked behind a subscription.
OUR TAKE: While the Nighthawk R7000 has been around for a while, it remains an impressive home router that anyone looking for a solid solution for Internet connection should consider. Those in apartments and smaller homes will definitely be satisfied with the wide range, and with support for up to 30 devices at once, everyone in your home can stay connected at all times. NETGEAR does offer a number of routers built for Wi-Fi 6 which will no doubt be more attractive to those looking to get the latest and greatest — but for our money, you can't go wrong with the Nighthawk R7000 for easy-to-use home wireless connectivity.
EERO 6
OVERVIEW: Amazon offers its own Wi-Fi 6 router via its company eero, offering the eero 6 Dual-Band Mesh Wi-Fi 6 Router with up to 1500 square feet of coverage and up to 900 Mbps data speed. With the integrated TrueMesh technology, the hardware routes traffic to reduce drop-offs, supporting even high-intensity traffic like video conferencing, gaming, and 4K streaming at once. The built-in Zigbee smart home hub makes IoT device onboarding and connecting a breeze, giving users the ability to connect all Alexa-supported devices easily. And for homes with a number of users who need to service tons of devices, the eero 6 has you covered with bandwidth for up to 75 devices.
PROS
Incredibly high simultaneous device support.
Built-in Zigbee smart home hub.
Mesh network capabilities.
CONS
Slower speeds than other comparable routers.
Updating firmware not always simple.
Security lacking without paying for a subscription.
OUR TAKE: With a sleek design and high device support, Amazon's eero 6 is a great choice for the "always-connected" crowd. Recently, the readers of PCMag award the eero 6 the Reader's Choice Award for Wireless Routers and Network Attached Storage for 2021. As to be expected from an Amazon-owned device, the eero 6 can natively pair with an Alexa device. This allows you to connect new devices onto your network through Alexa voice controls. Home users who want or require fast speeds for their devices will definitely want to look elsewhere, however, as other routers of similar price offer much higher data speeds.
SPEEDEFY K7
OVERVIEW: Activities like gaming, audio streaming, and 4K video streaming can put a huge strain on your network if you don't have the right router. Luckily, the Speedefy AC2100 (also known as the K7) is designed to handle the stress of homes where gaming and 4K streaming are constantly occurring. Coming equipped with all the modern Wi-Fi features, the K7's seven-antenna design helps bring fast network speeds of up to 1730 Mbps (for the 5GHz band) to every corner of your home. The router is also built to handle standard home network operations, with features for parental controls and guest networking to help users deal with children and guests.
PROS
Same quality of modern routers at a lower price point.
High speeds for gaming/4K streaming.
Set-up is easy and quick.
CONS
Users report range not being high.
No USB port on router.
Quality-of-service capabilities not as strong.
OUR TAKE: True to the brand's name, the Speedefy K7 delivers blistering speeds for multiple devices and tasks at once, even handling high-traffic gaming and streaming like it was nothing. The lower price point will definitely appeal to users who prioritize high speeds without breaking the bank, though its lack of support for Wi-Fi 6 may turn away those looking to the future. Speedefy recently released the latest model of its router, the Speeefy K8, which features higher device capacity and an even lower price; the jury is still out if this new model is worth the upgrade over the K7, however.
ASUS AX5400
OVERVIEW: ASUS has been one of the premier computer and phone companies for years, and has offered several gaming routers over the years that have impressed with their speed, device capacity, and minimized lag and latency. The ASUS AX5400 brings the improvements of Wi-Fi 6 to the fold while still delivering the power and speed you expect from a gaming router. With a dedicated LAN port for gaming and a Mobile Game Mode setting designed to optimize mobile gaming, the AX5400 provides a tailored Wi-Fi experience for gamers that emphasizes power and speed while still keeping network operations safe through ASUS AiProtection Pro.
PROS
Router designed for gaming; high speed, low latency.
Dedicated gaming LAN port.
Natively equipped with ASUS AiMesh technology.
CONS
Higher price point compared to other routers.
Some reported connection drops, especially with 2.4Ghz.
No multi-gigabit Ethernet port.
OUR TAKE: For users looking for routers designed specifically for gaming, you can't go wrong with the ASUS AX5400. Unlike the other routers on this list, ASUS introduced features into this model specifically created to enhance the gaming experience. Users can even switch on its Mobile Game Mode specifically designed for mobile gaming with the press of a button, easily minimizing lag and latency. Other routers like the Speedefy AC2100 do come cheaper while still handling high-speed gaming and streaming, but ASUS's gaming-centric features shouldn't be ignored. It should go without saying, but those not looking for a dedicated gaming router should look elsewhere.
---
Solutions Review participates in affiliate programs. We may make a small commission from products purchased through this resource.
---
Looking for a solution to help you improve your network performance? Our Network Monitoring Buyer's Guide contains profiles on the top network performance monitor vendors, as well as questions you should ask providers and yourself before buying.
Check us out on Twitter for the latest in Network Monitoring news and developments!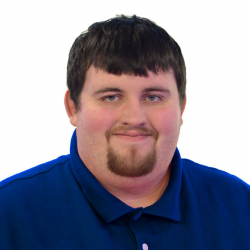 Latest posts by Daniel Hein
(see all)