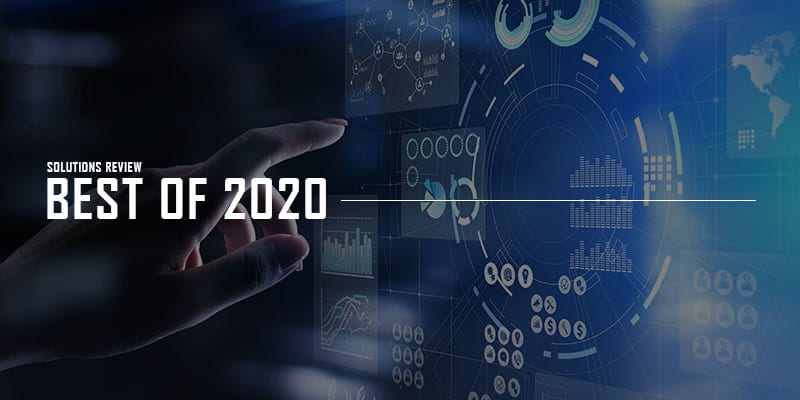 Solutions Review's listing of the best application performance monitoring (APM) tools is an annual sneak peak of the solution providers included in our Buyer's Guide and Solutions Directory. Information was gathered via online materials and reports, conversations with vendor representatives, and examinations of product demonstrations and free trials.
The editors at Solutions Review have developed this resource to assist buyers in search of the best application performance monitoring tools to fit the needs of their organization. Choosing the right vendor and tool can be a complicated process — one that requires in-depth research and often comes down to more than just the tool and its technical capabilities. To make your search a little easier, we've profiled the best APM vendors all in one place. We've also included platform and product line names and introductory software tutorials straight from the source so you can see each solution in action.
Note: Companies are listed in alphabetical order.
Platform: AppDynamics
Related Products: Central Nervous System for IT
Description: The AppDynamics platform is an application performance monitoring suite that helps users create better digital experiences for customers and employees. The suite of applications, built on an enterprise-grade platform, accelerates digital transformations to drive customer engagement and operational efficiency. AppDynamics' APM capabilities provide visibility into every line of code and important transactions across multi-cloud environments. Other features include end user monitoring, infrastructure visibility, and business performance monitoring.
Platform: AppNeta Performance Manager
Related Products: TruPath
Description: AppNeta Performance Manager is a network and application performance monitoring tool that delivers visibility into business-critical applications and networks as experienced from remote offices. The platform works on a four-dimensional monitoring system that examines network paths, network packets, web applications, and network flows. AppNeta's APM technology has 2,000 built-in applications as part of its monitoring solution, as well as the ability to add custom application definitions as needed.
Platform: BMC TrueSight AppVisibility
Related Products: BMC Helix, BMC Control-M
Description: BMC TrueSight is an IT operations and automation solutions suite that includes application performance monitoring capabilities. The suite includes APM features such as app ecosystem monitoring, operations management, and capacity optimization. TrueSight AppVisibility helps users Improve application performance across multicloud infrastructures with machine learning and advanced analytics; the tool uses application-centric infrastructure monitoring, synthetic management, and passive and active end-user experience monitoring.
Platform: Broadcom DX APM
Related Products: DX NetOps
Description: Broadcom DX APM is an application performance monitoring solution comprised of small microservices that allow individual scalability and performance boosting. The tool's Cluster Management console allows users to monitor your hardware utilization, scale services, and quickly onboard new projects. With Broadcom's APM Command Center, users can upgrade agents to the latest version, or update an agent with important functionality. The DX Platform also includes operational intelligence and app experience analytics capabilities.
Platform: Datadog
Description: Datadog is an infrastructure and application monitoring platform that provides full observability for modern applications. The platform collects, searches, and analyzes traces across fully distributed architectures. Datadog users can quickly find traces that match a particular user, customer, error code, endpoint, service, or custom tag. The company's APM solution is built to support live root-cause analysis to reduce resolution time and help teams release features more quickly.
Platform: Dynatrace Software Intelligence Platform
Description: Dynatrace Software Intelligence Platform is an all-in-one monitoring platform that combines network, application, and infrastructure monitoring with AIOps, digital experience management, and digital business analytics. The platform automatically discovers and monitors microservices running inside containers; users can see how they're performing and immediately detect poorly performing microservices. Dynatrace's PurePath Technology automatically captures timing and code-level context for transactions across every tier.
Platform: ExtraHop Reveal(x) for IT Operations
Related Products: ExtraHop Reveal(x), ExtraHop Reveal(x)
Description: ExtraHop Reveal(x) for IT Operations is an application and network performance monitoring solution that delivers complete visibility, real-time detection, and intelligent response. The solution provides real-time visibility into everything from database to cloud traffic by securely decoding over 70 enterprise protocols, including SSL/TLS-encrypted sessions, at line rate. The platform automatically discovers and classifies all assets and detects performance anomalies with machine learning trained on over 7,000 wire data metrics.
Platform: Flowmon APM
Related Products: Flowmon ADS, Flowmon DDoS Defender
Description: Flowmon APM is an application performance monitoring solution that helps users deal with availability issues, slow response times, and performance bottlenecks. The agentless solution allows administrators to proactively drive user experience and application value. Flowmon monitors business critical applications from the end user perspective so you always know how they stack up. In addition, the platform provides hard data for capacity planning and infrastructure upgrading, giving real insights into infrastructure utilization.
Platform: IBM Cloud App Management
Related Products: IBM Edge Computing Manager, IBM Cloud Content Delivery Network
Description: IBM Cloud App Management is an application performance monitoring solution designed to help users manage applications across multiple hybrid cloud environments. The platform delivers app-centric monitoring of microservice-based applications in addition to monitoring for traditional resources for your enterprise. With IBM Cloud App Management, users can give analytics to development teams and SREs to reduce errors, communicate with IT Ops and DevOps teams to identify bottlenecks, and correlate deployment activities with performance.
Platform: Infovista 5View Applications
Related Products: Ipanema SD-WAN, VistaInsight
Description: Infovista 5View Applications is an application performance monitoring solution that helps users deliver flawless user experiences through business applications. The tool provides detailed application usage, availability, and response time metrics, giving your IT organizations and CSPs the ability to analyze and know the factors that impact application quality on the network. 5View Applications delivers total application visibility, proactive alarms, as well as LAN / WAN / Server performance quick analysis for each flow and each user.
Platform: Instana 
Description: Instana is an application performance monitoring solution that includes fully automated APM in addition to service, infrastructure, container, and website management. The tool delivers continuous full stack observability of all server and application components as well as automatic distributed tracking for complete visibility. Instana provides application perspectives that logically group app components, services, and transaction requests together for analysis, visualization, and alerting via UI configurations.
Platform: SysTrack
Description: Lakeside SysTrack is a digital experience management tool that also includes application performance monitoring capabilities. The product gathers and analyzes data on everything that may impact end user experience and business productivity, gathering over 10,000 data points every 15 seconds from each endpoint on your environment. With SysTrack, users can lower the volume of help desk tickets, identify over and under-provisioning, select the best-fit technology for their environment, track SLA performance, and measure the performance of projects.
Platform: LogicMonitor Platform
Related Products: LM Cloud
Description: LogicMonitor is an agentless SaaS-based monitoring solution that monitors the performance and availability of business-critical applications from a unified platform. The platform provides full-stack application insights and tracks app availability and performance alongside an entire IT infrastructure. With LogicMonitor, users can track the availability of multi-step transactions and flows on websites and apps, gaining deeper insights into modern service architectures and tracking performance of containerized applications.
Platform: ManageEngine Applications Manager
Related Products: ManageEngine OpManager, Application Control Plus
Description: ManageEngine Applications Manager is an application and server performance monitoring solution that provides total visibility from the URL to the line of code. The product features integrated application performance monitoring for all server and application monitoring needs, from server and infrastructure components that support a business to business-critical applications responsible for service delivery. Applications Manager supports over 100 popular technologies across cloud applications, application servers, web services, and more.
Platform: NETSCOUT nGeniusONE
Related Products: nGeniusPULSE
Description: NETSCOUT nGeniusONE is a network and application performance monitoring platform that offers full visibility into infrastructure, interdependencies and applications. The tool utilizes adaptive service intelligence technology to allow for continuous monitoring and analysis of network traffic data. nGeniusONE users can test wired and wireless network performance to stay ahead of performance problems pre-and-post-deployment. NETSCOUT can analyze wire-traffic, NetFlow and MIB2 data in the same solution.
Platform: New Relic APM
Related Products: New Relic Infrastructure, New Relic Insights, New Relic Browser
Description: New Relic APM is an application performance monitoring solution that provides a complete view of applications and their operating environment. The product delivers auto-instrumentation for the industry-leading seven programming languages, meaning users can know what's happening in any application environment. With New Relic, administrators can quickly find root causes and fix issues fast, thanks to in-depth transaction details that show exact method calls with line numbers, including external dependencies for apps of any size and complexity.
Platform: Plixer FlowPro
Related Products: Plixer Scrutinizer, Plixer Replicator
Description: Plixer FlowPro is a network sensor that delivers application performance monitoring capabilities. The platform provides insights into application performance and security. From a single probe, network operations can efficiently manage and optimize the network, while security operations is able to simultaneously lower risk, gain data context, and respond quickly to security incidents. FlowPro allows users to monitor performance with Layer 7 precision, including real-time applications like video and voice.
Platform: Riverbed SteelCentral AppResponse
Related Products: SteelCentral, SteelCentral NetProfiler, SteelCentral UCExpert
Description: Riverbed SteelCentral AppResponse is a network-based application performance monitoring solution that delivers full-stack application analysis from packets to pages. The platform delivers actionable insights on packet data, and rich app analysis, including network forensics, application metrics, web transaction analysis, and database anlaysis. Using powerful network and application analytics and flexible workflows, AppResponse speeds problem diagnosis and resolution, helping users get to answers fast.
SolarWinds
Platform: SolarWinds Server & Application Monitor
Related Products: SolarWinds Network Performance Monitor, Virtualization Manager
Description: SolarWinds Server & Application Monitor is a server and application performance monitoring solution that provides monitoring features for over 1,200 applications and systems. The platform delivers capabilities that allow users to achieve high application performance with continuous monitoring and end-to-end visibility. SolarWinds provides users with the ability to solve complex problems with deep dive diagnostics, monitoring automation, end-user experience monitoring, and resource capacity forecasting.
Platform: Splunk IT Service Intelligence (ITSI)
Related Products: Splunk SignalFx, Splunk VictorOps
Description: Splunk IT Service Intelligence (ITSI) is an IT operations and application performance monitoring solution designed to predict and prevent application performance problems. The platform provides a view of the high-level health and performance of applications and services. It also lets users dive deeper in investigations to help predict outages and find the root cause of a problem faster. The tool's machine learning capabilities can detect patterns to help baseline and automatically adapt behaviors for better monitoring and incident prediction.
---
To compare the best network and application performance monitoring tools, consult our Network Monitoring Buyer's Guide.
---