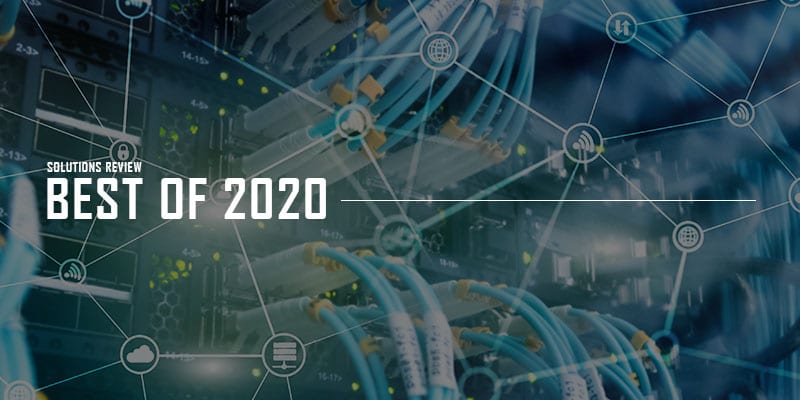 Solutions Review's listing of the best network monitoring tools is an annual sneak peak of the solution providers included in our Buyer's Guide and Solutions Directory. Information was gathered via online materials and reports, conversations with vendor representatives, and examinations of product demonstrations and free trials.
The editors at Solutions Review have developed this resource to assist buyers in search of the best network monitoring tools to fit the needs of their organization. Choosing the right vendor and tool can be a complicated process — one that requires in-depth research and often comes down to more than just the tool and its technical capabilities. To make your search a little easier, we've profiled the best network monitoring solution providers all in one place. We've also included platform and product line names and introductory software tutorials straight from the source so you can see each solution in action.
Note: Companies are listed in alphabetical order.
Platform: Accedian Skylight PVX
Related Products: Skylight Performance Analytics
Description: Accedian Skylight PVX is a unified network and application performance management solution. Skylight uses both physical and virtual traffic capture appliances to collect network flows and application transactions; all capture appliances are linked to a central datastore. They also offer a packet broker that remotely captures network data and delivers it to the datastore for analysis. Skylight displays performance data for every application flow and allows users to refine their searches using multiple filters.
Platform: AppNeta Performance Manager
Description: AppNeta Performance Manager is a network monitoring tool that uses deep packet inspection to go beyond NetFlow and discover insights on 100% of a company's network traffic. Their deep packet inspection engine recognizes over 2,000 applications and sends the analysis to AppNeta's cloud platform. The core of AppNeta's technology is TruPath, which provides real-time diagnostics and reports on details and performance issues. TruPath periodically sends data packets to monitor every path from one end of a network to the other.
Platform: DX NetOps
Related Products: DX Spectrum, DX Infrastructure Manager
Description: DX NetOps by CA Technologies, a Broadcom-owned company, is a network monitoring and analytics software that unifies traditional network and systems monitoring with full-stack analysis. The tool can discover multiple types of networks and displays them in a single-pane dashboard that allows users to create contextual monitoring workflows. DX NetOps is also augmented by Broadcom's AIOps platform, bringing NetOps and AIOps together to proactively solve network problems through automated remediation capabilities.

Platform: Cisco Prime Performance Manager
Related Products: Cisco Prime Infrastructure, Cisco Prime Collaboration
Description: Cisco Prime Performance Manager, a subset of Cisco Prime, is a network monitoring application that pulls actionable information from the entire network, including core, aggregation, and access networks. Cisco Prime can gather data on any SNMP-enabled device using a standards-based data collection method, then generate reports on a user-determined schedule. Users can switch between Cisco's default views and their own configured views to provide a better scope of the network.

Platform: Corvil Analytics
Related Products: Corvil Capture, Corvil Intelligence Hub
Description: Corvil Anayltics is a network monitoring and analysis suite that automatically discovers and decodes network performance data. With Corvil Analytics, users can analyze raw packet data from their network and discover real-time insights. The solution allows network managers to instantly capture and store packets. Corvil currently offers over 500 different plug-ins for Analytics that are bundled into solution packs; each plug-in helps businesses decipher information from specific network protocols and applications.
Platform: Dynatrace Software Intelligence Platform
Description: Dynatrace Software Intelligence Platform is an all-in-one monitoring platform that combines network, application, and infrastructure monitoring with AIOps, digital experience management, and digital business analytics. Dynatrace monitors network communication on a process-to-process basis, rather than monitoring them at the host level. The Software Intelligence Platform reveals the quality and performance of all network connections between processes, even across virtualized cloud and data centers.
Platform: ExtraHop Reveal(x)
Related Products: ExtraHop Reveal(x) Cloud, ExtraHop Reveal(x) for IT Operations
Description: ExtraHop Reveal(x) is a cloud-based network detection and response platform that gives organizations real-time visibility into their network from the inside out. Reveal(x) performs real-time analysis, automatically discovering and classifying key events. Users can see every action that occurs on their network as they happen and rectify any issues or mistakes. When Reveal(x) detects a problem or a suspicious event, it automatically investigates further using threat intelligence capabilities and responds according to its findings.
Platform: Flowmon
Related Products: Flowmon Monitoring Center, Flowmon APM
Description: Flowmon is a flow-based network monitoring tool that delivers network visibility and control, as well as cloud operations, security operations, and DDoS protection. The vendor's network connector provides administrators and security engineers with a full understanding of everything happening on the network Flowmon Probes provide network traffic monitoring and analysis to determine any issues in network communication. Flowmon Collectors receive traffic data and provide constant visibility into every corner of the network.

Platform: HPE Intelligent Management Center
Related Products: Aruba AirWave
Description: HPE Intelligent Management Center is a network monitoring platform that manages data centers and core networks and provides clearly defined network data for IT teams. Intelligent Management Center features a modular platform with tools that cover traffic analysis, remote network management and intelligence reporting. HPE offers several additional modules for Intelligent Management Center that cover capabilities like traffic analysis, virtual application networking, and remote infrastructure monitoring and management.
Platform: Infovista VistaInsight
Related Products: Ipanema SD-WAN, Infovista 5View Applications
Description: Infovista VistaInsight is a network monitoring and service assurance solution that gives users full visibility over their network activity. InfoVista's tools, including VistaInsight, support cloud and SSL-based applications, VXLAN, and a number of other features. Through VistaInsight, users can reduce the time of NFV onboarding, design, testing, and operations by managing multi-vendor VNF performance, VNF capacity optimization, and service modelling through a single service assurance solution.
Platform: Ipswitch WhatsUp Gold
Description: Ipswitch WhatsUp Gold is a comprehensive monitoring software suite that covers infrastructure monitoring, application performance management, and network monitoring. The WhatsUp Gold monitoring dashboards allow users to track resource usage and billing of their cloud environments, providing cost-justification to management. The solution automatically discovers, maps, and monitors cloud deployments, including AWS and Azure, and can be extended to multiple remote networks.
Platform: Kentik Platform
Description: Kentik is a network monitoring and AIOps platform that provides full network visibility, combining a NetFlow network monitoring tool with solutions for ingesting data like VPC Flow Logs, business context, and application context. The Kentik Platform captures a view of your network traffic data and enriches it with critical business data, allowing every network event or analysis to be tied to business information — revenue and costs, customer and user experience, performance and risk.
Platform: LiveAction LiveNX
Related Products: LiveWire, Omnipeek, LiveCapture
Description: LiveAction LiveNX is a network performance and analytics platform that eases network monitoring and configuration. LiveNX utilizes NetFlow, QoS, and IP service level agreements to help with capacity planning and performance baselining. Users can also generate synthetic network traffic with LiveNX to perform pre-deployment assessments. LiveAction also offers LiveNX Insight, a machine learning-based module for LiveNX that continuously identifies patterns and insight from customer metadata.
Platform: LogicMonitor Platform
Related Products: LM Cloud
Description: LogicMonitor is an agentless SaaS-based network monitoring solution that gives organizations the ability to discover all network devices and interfaces. Through alerts and interface metrics, users are given greater visibility into error rates, network usage, and throughput. LogicMonitor's monitoring platform has a library of over 1000 pre-built monitoring templates that provide automated discover, monitoring, and alerting for several apps and deployments, include AIX, VMware, and Tomcat.
Platform: LogRhythm NetworkXDR
Related Products: LogRhythm NextGen SIEM, LogRhythm Cloud, LogRhythm NetMon
Description: LogRhythm NetworkXDR is a network security solution that detects network-borne threats in real-time and features SOAR capabilities. NetworkXDR recognizes thousands of applications at Layer 7 with advanced analytics and customizable dashboards for threat hunting, corroborating high-risk network activities at the network and application level to minimize false positives. To gain insights into your network, LogRhythm NetworkXDR searches rich network traffic metadata with full selective intelligent packet capture.
Platform: ManageEngine OpManager Plus
Related Products: NetFlow Analyzer, Network Configuration Manager
Description: ManageEngine OpManager Plus is an integrated monitoring tool that allows for full visibility into networks, applications and infrastructure. OpManager Plus monitors the health of all a user's network devices in real-time through various protocols. The solution monitors critical network metrics (including packet loss, errors, and discards) and the health of device hardware, among other factors. It also provides network configuration management capabilities with support for multiple hardware vendors and real-time configuration change tracking.
Platform: Monitis
Description: Monitis is a web-based network monitoring tool that allows businesses to take control of their IT system no matter their location. Monitis' web-based network monitoring solution provides users with agent-based and agentless monitoring for network devices. It also features network bandwidth monitoring, SNMP devices, TCP protocols, and WAN link capabilities. The solution delivers a combination of website uptime monitoring, full page load, synthetic transaction monitoring, and web stress testing.
Platform: NETSCOUT nGeniusONE
Related Products: nGeniusPULSE
Description: NETSCOUT nGeniusONE is a network monitoring and service assurance platform that offers full visibility into infrastructure, interdependencies and applications. The tool utilizes adaptive service intelligence technology to allow for continuous monitoring and analysis of network traffic data. nGeniusONE users can test wired and wireless network performance to stay ahead of performance problems pre-and-post-deployment. NETSCOUT can analyze wire-traffic, NetFlow and MIB2 data in the same solution.
Platform: Opmantek NMIS Professional
Related Products: opCharts, opReports
Description: Opmantek Network Management Information System (NMIS) Professional is an intelligent network management and infrastructure monitoring solution that serves as the professional version of Opmantek's open source network management offerings. NMIS is a scalable, flexible network management system that classifies events based on business impact. The solution can be augmented with several modules that Opmantek offers, including opCharts for network mapping and opReports for data reporting.
Platform: Paessler PRTG Network Monitor
Description: Paessler PRTG Network Monitor is a network monitoring solution that allows administrators to stay ahead of IT infrastructure issues. PRTG offers fault and flow analysis, packet sniffing, and more; they also offer other monitoring services like cloud, database, and bandwidth monitoring. Paessler monitors networks using a range of technologies to assure the availability of network components and measure traffic and usage. The web interface is based on AJAX and features high security standards and responsive design.
Platform: Plixer Scrutinizer
Description: Plixer Scrutinizer is a network monitoring and network traffic analysis system that gathers network flow data and metadata from every network conversation. Scrutinizer works as a network forensics and security tool as well. Plixer's tool correlates network data with metadata from various network locations to provide better context for network events. In addition, Scrutinizer features integrations with technologies from companies like Cisco, Palo Alto Networks, and VMware.
Platform: Riverbed SteelCentral
Related Products: SteelCentral AppResponse, SteelCentral NetProfiler, SteelCentral UCExpert
Description: Riverbed SteelCentral is a network monitoring and application performance monitoring suite that offers full network visibility, analytics, troubleshooting and user monitoring. Their network performance management platform acts as a suite of monitoring and management tools, such as AppResponse for packet capture and NetProfiler for flow-based analysis. Riverbed provides customers with four levels of support depending on how quickly they need replacement equipment shipped in the event of a network failure.
Platform: SevOne Data Platform
Related Products: SevOne Data Insight, SevOne Data Appliance
Description: SevOne Data Platform is a network monitoring and analytics solution that provides a modern collection of comprehensive network performance metrics. The vendor focuses on infrastructure monitoring, paired with flow and log monitoring as well. SevOne Data Platform works on a collection of network performance metrics and flow data; the solution supports over 10,000 different network devices, with support for onboarded SNMP devices coming within 10 business days.
Platform: SolarWinds Network Performance Monitor
Related Products: NetFlow Traffic Analyzer, Network Configuration Manager
Description: SolarWinds Network Performance Monitor is a network monitoring solution that, alongside SolarWinds' other solutions, provides a wide range of analytics and management capabilities. With Network Performance Monitor, users can reduce the flood of unnecessary network alerts by creating alerts based on simple or complex nested trigger conditions, defined parent/child dependencies, and network topology. SolarWinds also offers network path analysis features through NetPath, which provides visual analysis and problem solving.
Platform: Statseeker
Description: Statseeker is a network monitoring solution vendor that monitors every physical, virtual, and logical interface across an organization. The Statseeker monitoring tool has a major focus on rapid deployment and low-cost scalability. Statseeker uses SNMP discovery to locate devices, interfaces, and other SNMP-enabled components; users can direct the discovery process towards specific devices. It also provides anomaly detection capabilities by comparing current network data to historical patterns.
Platform: ThousandEyes Network Intelligence
Description: ThousandEyes Network Intelligence is a cloud-based network monitoring and intelligence solution that allows IT teams to diagnose performance issues with both network infrastructure and applications. With Network Intelligence, admins can rapidly analyze performance with purpose-built visualizations across multiple layers of network data. ThousandEyes's network intelligence analysis helps diagnose diverse infrastructure, service, and app issues. The vendor uses agents to generate synthetic traffic that probes network patterns and flows.
Platform: VIAVI Observer Platform
Related Products: Observer Apex, Observer GigaStor, Observer GigaFlow
Description: The VIAVI Solutions Observer platform, comprised of Apex, GigaStor, and GigaFlow, delivers network visibility to NetOps and SecOps teams to help manage daily IT operations, mitigate risks, and solve performance and security issues. VIAVI delivers an end-user experience scoring model that identifies issues with scope and impact context, isolating the problem domain. Users can drill down from dashboards to complete wire data transactions, reducing mean-time-to-resolution (MTTR).
Platform: Zabbix 4.4
Description: Zabbix 4.4 is an open source network performance monitoring solution available as a software and virtual appliance download. This solution has been optimized for high performance for monitoring the operating system and application-specific metrics. Zabbix's network health monitoring capabilities alert your enterprise when a link is down, system status is in a critical state, device temperature is too high or low, power supply is running low, or there isn't enough disk space.
---
---