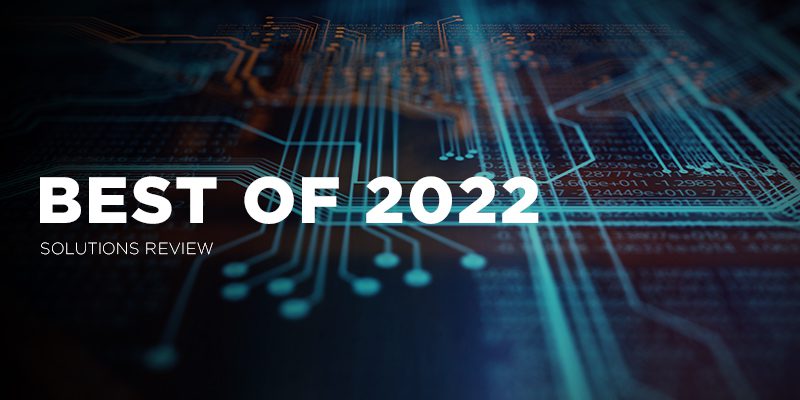 Solutions Review's listing of the best network automation tools is an annual mashup of products that best represent current market conditions, according to the crowd. Our editors selected the best network automation tools based on each solution's Authority Score; a meta-analysis of real user sentiment through the web's most trusted business software review sites and our own proprietary five-point inclusion criteria.
The editors at Solutions Review have developed this resource to assist buyers in search of the best network automation tools and platforms to fit the needs of their organization. Choosing the right vendor and solution can be a complicated process — one that requires in-depth research and often comes down to more than just the solution and its technical capabilities. To make your search a little easier, we've profiled the best network automation tools all in one place. We've also included platform and product line names and introductory software tutorials straight from the source so you can see each solution in action.
Note: Companies are listed in alphabetical order.
The Best Network Automation Tools
Platform: Juniper Apstra System
Description: The Juniper Apstra System is a virtual overlay that standardizes the management of network hardware through a single interface. The tool runs on top of a hypervisor and delivers a new way of thinking about data center network operations. Users can specify the outcomes they want and the platform will then set up the network, ensure it runs as intended, alert users when deviations occur, and manage changes and maintenance. The turnkey Apstra software enables users to automate the entire network lifecycle within a single system, facilitating the adoption of network administration.
Platform: AppViewX ADC+
Description: AppViewX ADC+ delivers GUI-based, API-driven solutions that simplify and speed up ADC lifecycle automation. The tool provides application-centric visibility, monitoring, and automation for Layer 2 to Layer 7 devices. ADC+ supports an array of network device vendors and IT services providers and works in on-prem, private, hybrid, multi-cloud, and microservices deployments. The platform also delivers closed-loop, analytics-driven, event-based automation that is designed to reduce manual interference. Additionally, ADC+ consistently scans the network for issues and automatically applies the appropriate solution when it detects one.
Platform: BloxOne DDI
Description: BloxOne DDI is a cloud-managed solution that gives users the ability to centrally control and automate DNS, DHCP, and IP address management (DDI) for hybrid and multi-cloud networks. The tool allows for integration and centralized administration of DDI across data center, cloud, and branch locations, making it a suitable platform for large enterprises. BloxOne DDI also gives users the ability to elastically expand DDI as their needs change. Additionally, this solution ensures always-on availability for network access and provides users with Direct Internet Access no matter where they are located.
Platform: Itential Network Automation Platform
Description: The Itential Network Automation Platform is a vendor-agnostic SaaS solution that seamlessly connects to any IT system, cloud, or network technology for end-to-end automation across any network domain from cloud, IP services, network applications, branch/SD-WAN, data center, multi-cloud, and more. Users can define golden configuration standards for both traditional and cloud networks and also ensure compliance through automated remediation. Additionally, the platform can integrate with any CLI and API technology and leverage a single, aggregated network API that offers network self-service capabilities to other IT teams.
Platform: ManageEngine Network Configuration Manager
Description: The ManageEngine Network Configuration Manager (NCM) is a multi-vendor network change, configuration, and compliance management (NCCM) solution for switches, routers, firewalls, and other network devices. NCM enables users to schedule device configuration backups, track activity, and identify changes by comparing configuration versions all from a centralized web GUI. Network Configuration Manager also automates repetitive, tedious configuration management tasks by centrally applying configuration changes to devices in bulk batches.
Platform: NetBrain Automation
Description: NetBrain Automation is an adaptive network automation tool that creates an operating system for a network. The vendor's product suite is based on a discovery engine that builds a "digital image" of the live network. This image is based on the collection of network data through device configurations, CLI output, and third-party solutions through API. NetBrain Automation also supports heterogeneous and multi-vendor network infrastructures and delivers a visual programming interface that enables administrators to define workflows for runbook automation, rapid troubleshooting, and remediation.
Platform: WhatsUp Gold
Description: Progress WhatsUp Gold delivers total visibility to everything connected to a user's network. The tool's interactive map also gives users the ability to see network devices, servers, virtual machines, cloud, and wireless environments in context so you can diagnose problems accurately. WhatsUp Gold is easily customizable and offers drag-and-drop dashboards to easily see the detailed status and performance of every device both on-prem and in the cloud. Additionally, the platform will send IT teams alerts through SMS, email, web, or Slack so they are aware of any issues before users report them.
Platform: Red Hat Ansible
Description: The Red Hat Ansible Automation platform acts as a foundation for building and operating automation across an organization. The tool utilizes code templates called playbooks to perform automation tasks. Ansible is primarily used for Day 0/Day 1 provisioning, configuration management, and task automation. The platform comes in two versions: an open-source version that is script-based and uses the device CLI to configure automation workflows, and a paid version (Ansible Tower), which offers a GUI-based console for deploying automation playbooks and network administration.
Platform: SolarWinds Network Automation Manager
Description: SolarWinds Network Automation Manager is a heterogeneous and multi-vendor solution. The platform delivers a range of network security capabilities, as well as automated configuration backup, configuration change monitoring, change automation, change approval, and configuration auditing. SolarWinds' network automation software can also provide insights into network fault, network availability, performance, bandwidth, configuration, and IT address management in a single console.
Platform: VMware NSX Intelligence
Description: VMware NSX Intelligence delivers granular security and segmentation, simplified policy compliance, and streamlined security operations. With this tool, users can visualize and gain deep insights into all flows across an entire data center with layer 7 inspection and complete workload context. This eliminates security blind spots and speeds up incident remediation. NSX Intelligence also eliminates the network overhead of duplicating packets and the complexity of managing large centralized appliances through its analytics ending built directly into the hypervisor.