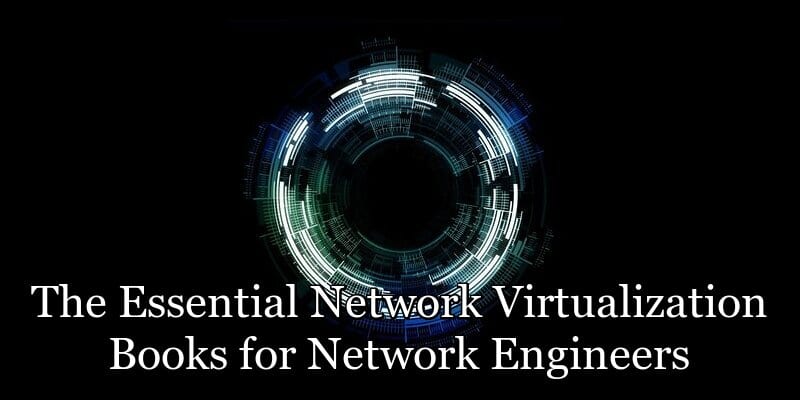 Solutions Review compiles the most essential books on network virtualization that any network engineer or administrator needs to add to their reading list.
Are you a network engineer or administrator that focuses on network virtualization? Books, whether hardcover or digital, are an excellent source for people looking to learn about a specific field of technology, and network virtualization is no exception. We've listed the top network virtualization books that you should add to your reading list. These books are intended for beginners and experts alike and are written by authors with proficiency and/or recognition in the field of networks and network virtualization.
If you're looking for resources on network monitoring, our free Network Monitoring Buyer's Guide has you covered. It contains profiles on the top network monitoring providers in the market today, including descriptions of the tools they offer and noteworthy features of each. The guide also features 10 questions you should ask prospective vendors and yourself before buying a network monitoring solution. You can check out that guide here!

by William Stallings
"Foundations of Modern Networking is a comprehensive, unified survey of modern networking technology and applications for today's professionals, managers, and students. Dr. William Stallings offers clear and well-organized coverage of five key technologies that are transforming networks: Software-Defined Networks (SDN), Network Functions Virtualization (NFV), Quality of Experience (QoE), the Internet of Things (IoT), and cloud-based services.
---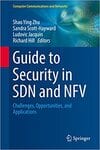 by Shao Ying Zhu, Sandra Scott-Hayward, Ludovic Jacquin, and Richard Hill
"This book highlights the importance of security in the design, development and deployment of systems based on Software-Defined Networking (SDN) and Network Functions Virtualization (NFV), together referred to as SDNFV. Presenting a comprehensive guide to the application of security mechanisms in the context of SDNFV, the content spans fundamental theory, practical solutions, and potential applications in future networks. […] This informative and practical volume is an essential resource for researchers interested in the potential of SDNFV systems to address a broad range of network security challenges."
---

by Ken Gray and Thomas D. Nadeau
"Network Function Virtualization provides an architectural, vendor-neutral level overview of the issues surrounding the large levels of data storage and transmission requirements needed for today's companies, also enumerating the benefits of NFV for the enterprise. Drawing upon years of practical experience, and using numerous examples and an easy-to-understand framework, authors Tom Nadeau and Ken Gary discuss the relevancy of NFV anda how it can be effectively used to create and deploy new services."
---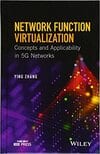 by Ying Zhang
"Network Function Virtualization: Concepts and Applicability in 5G Networks reviews new technologies that enable NFV, such as Software Defined Networks (SDN), network virtualization, and cloud computing. It also provides an in-depth investigation of the most advanced open source initiatives in this area, including OPNFV, Openstack, and Opendaylight. Finally, this book goes beyond literature review and industry survey by describing advanced research topics such as service chaining, VNF orchestrations, and network verification of NFV systems."
---

by Rajendra Chayapathi, Syed Hassan, and Paresh Shah
"Network Functions Virtualization (NFV) will drive dramatic cost reductions while also accelerating service delivery. Using NFV with SDN, network owners can provision new functions rapidly on demand, improve scalability, and leverage microservices. Benefits like these will make NFV indispensable for service providers, mobile operators, telcos, and enterprises alike."
by Victor Moreno and Kumar Reddy
"Network Virtualization provides design guidance for virtualized enterprise networks and arms network architects with the background necessary to make sound technological choices in the face of different business requirements. As a means of introduction, Network Virtualization lays out the fundamentals of enterprise network design. The book builds upon these fundamental principles to introduce the different virtualization methods as the logical evolution of the enterprise network architecture."
---
by Joseph Ioffrada
"This book describes these technologies, the main implementation use cases and the different industry players strategies. In particular, it explains how the value propositions of hardware vendors, service providers, operators and integrators are being jostled by SDN and NFV. Investors, executives and sales will get the understanding of SDN and NFV and their economical impact, which is vital to drive their businesses through the next decade. This work will also benefit network engineers, architects, or students getting the key concepts and dynamics of this technology."
---

by Jim Doherty
"SDN (Software Defined Networks) and NFV (Network Function Virtualization) are today's hottest areas of networking. Many executives, investors, sales professionals, and marketers need a solid working understanding of these technologies, but most books on the subject are written specifically for network engineers and other technical experts. SDN and NFV Simplified fills that gap, offering highly visual, "at-a-glance" explanations of SDN, NFV, and their underlying virtualization."
---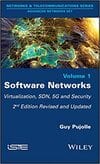 by Guy Pujolle
"Software Networks describe new concepts for the Internet's next generation. This architecture is based on virtual networking using Cloud and datacenter facilities. The main problems to be dealt with are the placement of virtual resources for opening a new network on the fly, and the urbanization of virtual resources implemented on physical network equipment. The digital architecture also deals with mechanisms capable of automatically controlling the placement of all virtual resources within the physical network. This book describes how to create and delete virtual networks on the fly."
---
Solutions Review participates in affiliate programs. We may make a small commission from products purchased through this resource.
---
Looking for a solution to help you improve your network performance? Our Network Monitoring Buyer's Guide contains profiles on the top network performance monitor vendors, as well as questions you should ask providers and yourself before buying.
Check us out on Twitter for the latest in Network Monitoring news and developments!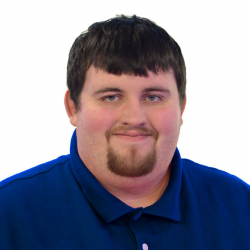 Latest posts by Daniel Hein
(see all)