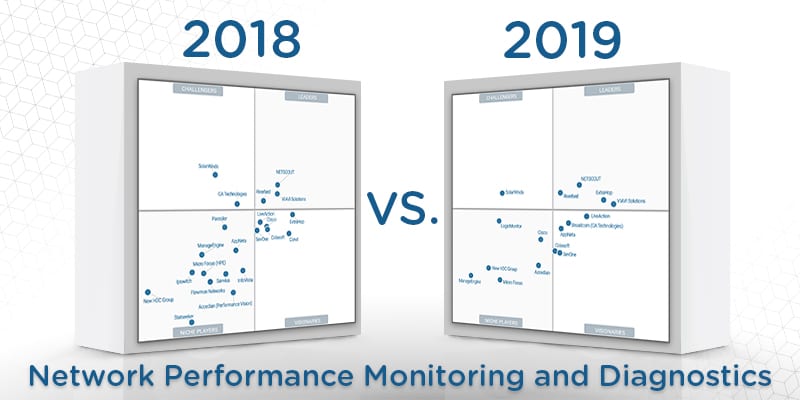 We read the 2019 Magic Quadrant for Network Performance Monitoring and Diagnostics and highlighted what's changed since last year.
Recently, analyst house Gartner, Inc. released their 2019 Magic Quadrant for Network Performance Monitoring and Diagnostics. Gartner defines Network Performance Monitoring and Diagnostics (NPMD) as tools that "leverage a combination of packet data, flow data and infrastructure metrics to provide historical, real-time and predictive views into the availability and performance of the network and the application traffic running on it." NPMD programs collect integral information about a network's performance and diagnose problems using a combination of AIOps functions and end-user experience analysis. Typically, NPMD vendors provide either software or hardware appliances (sensors, switches, etc.).
The Magic Quadrant lists 16 different NPMD vendors and highlights their offerings, their strong suits, and their weaknesses. At Solutions Review, we read the report, available here, and pulled out everything that's changed in the NPMD sector from last year's Magic Quadrant.
NPMD market developments and new criteria
Gartner noted some major developments in the NPMD market, particularly in the buyers and development of the products. Their report notes a continuing divide between the types of customers that buy NPMD solutions. Gartner wrote that some customers focus solely on infrastructure monitoring, while others also include packet monitoring in their priorities. Gartner also discussed several technological innovations in the space, including an increasing use of AI and cloud-based monitoring. These developments are something to note when considering the future of NPMDs.
Because NPMD tools are evolving, Gartner made some changes to their evaluation criteria for NPMD solutions. First, they loosened data source support requirements. Now, NPMD tools only need to support at least two of the three major data sources: infrastructure metrics, flow, or packets. Previously, applicable offerings had to support all three. Second, Gartner increased the minimum revenue requirements for consideration, citing differing market dynamics.
Which vendors are still here, and who's gone?
Gartner divides Magic Quadrants into four categories: Leaders, Challengers, Visionaries, and Niche Players. Chosen vendors are ranked on both their completeness of vision and their ability to execute. From this ranking, Gartner then places the vendor into one of the four categories.
Last year, there were 22 vendors on the Magic Quadrant; this year, there were only 16. Two vendors were added this year: LogicMonitor and Broadcom. Seven vendors were dropped: CA Technologies (acquired by Broadcom), Corvil, Infovista, Ipswitch, Paessler, Savvius (acquired by LiveAction) and Statseeker. It should be noted that all dropped vendors were listed as Honorable Mentions by Gartner, meaning they still come up in NPMD inquiries but no longer meet Gartner's evaluation requirements.
Our Network Monitoring Buyer's Guide contains profiles on the top network performance monitor vendors, as well as questions you should ask providers and yourself before buying.
Analyzing the four categories
Leaders
Last year's three Leaders – NetScout, Riverbed, and VIAVI – are still in the same quadrant this year. However, Gartner moved ExtraHop from the Visionaries category to the Leaders segment. ExtraHop's commitment to AIOps integration and improvement of visualizations helped Gartner label them as a Leader this year.
Challengers
SolarWinds is the sole Challenger in this year's Magic Quadrant, as CA Technologies (now Broadcom) moved to the Visionaries category. SolarWinds has focused on increased scalability over the past year, and they consolidated all their NPMD offerings into one tool – Network Automation Manager (NAM).
Visionaries
The Visionaries category lost Cisco (moved to Niche Players) and Corvil (not listed), but gained Broadcom from the Challengers quadrant and AppNeta from the Niche Players. The Broadcom acquisition of CA Technologies, completed in November, might have long-term effects that will change their position next year. Gartner cited AppNeta's growth and sales performance over the past year. ColaSoft, LiveAction, and SevOne retained their Visionaries spot.
Niche Players
The Niche Players quadrant saw the most changes this year. Of last year's Niche Players, only Accedian, ManageEngine, Micro Focus, and New H3C Group remain. LogicMonitor, a new vendor this year, was cited as being easy to use despite a roadmap that lags behind other solutions. Cisco, previously a Visionary, has suffered from a lack of awareness by customers of their NPMD solutions, despite their solid financial situation and brand recognition.
You can read the full Gartner Magic Quadrant report here.
---
Looking for a solution to help you improve your network performance? Our Network Monitoring Buyer's Guide contains profiles on the top network performance monitor vendors, as well as questions you should ask providers and yourself before buying.
Check us out on Twitter for the latest in Network Monitoring news and developments!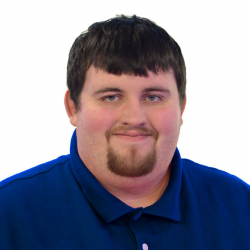 Latest posts by Daniel Hein
(see all)