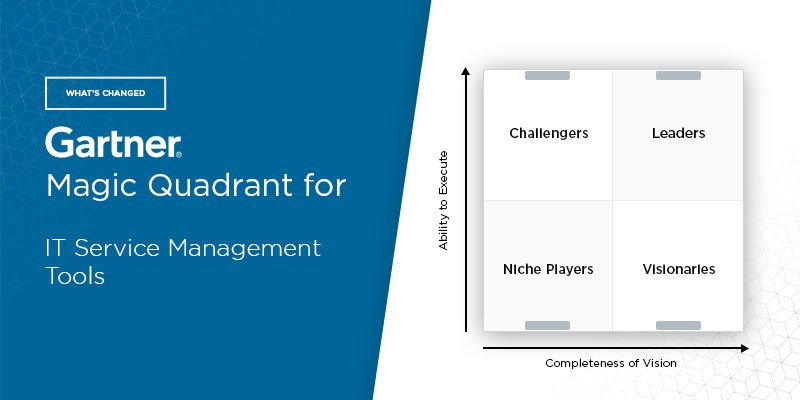 The editors at Solutions Review highlight what's changed in the last iteration of Gartner's Magic Quadrant for IT Service Management Tools and provide an analysis of the new report.
Analyst house Gartner, Inc. recently released its 2021 Magic Quadrant for IT Service Management Tools. Gartner defines IT service management as tools that "help infrastructure and operations (I&O) organizations manage the consumption of IT services, the infrastructure that supports the IT services and the IT organization's responsibility in delivering business value with these services. These are most heavily used by IT service desks and IT service delivery functions to support the tasks and workflows for processes including incident, request, problem, change, knowledge and configuration management."
In the report, Gartner highlights 11 providers of ITSM tools: Atlassian, Axios Systems, BMC, EasyVista, Freshworks, Ivanti, ManageEngine, Micro Focus, ServiceNow, SysAid, and USU. At Solutions Review, we read the report, available here, and pulled out the key takeaways.
Leading the pack this year is ServiceNow, a single platform that connects ITSM and non-IT digital workflows. The company has made several key acquisitions in the past, year such as AI software provider Element AI, service asset and configuration management vendor Sweagle, automation company Intellibot, and observability platform Lightstep. ServiceNow reports that it reached more than 1,000 customers by the end of 2020.
BMC's four ITSM products (BMC Helix ITSM, BMC Helix Remedyforce, FootPrints, and Track-It!) are strengthened by integrations with other BMC solutions for operations management and AI-enhanced management. The roadmap for Helix ITSM includes converging service management and operations management capabilities and increased investment in AI. Expanded digital workplace capabilities and improved collaboration are also promised.
The final Leader in the Quadrant, Ivanti is working to provide deeper edge support through the combined capabilities of its Neurons for ITSM platform and self-service experiences for the end-users. The vendor is leveraging its experience with endpoint management to provide more AI-enhanced capabilities. Ivanti has pursued an aggressive acquisition strategy over the past 12 months to boost its feature set in its focus areas.
Freshworks positioned itself as the single Challenger of the report, developing its ITSM product at a rapid pace over the past few years. The company is the fastest-growing vendor by revenue percentage growth rate in Gartner's evaluation. With recent acquisitions of orchestration vendor Flint and AI self-service vendor AnsweriQ, the product will continue to evolve quickly to drive new customers
The sole Visionary vendor in the report, Atlassian focuses on converging digital experiences for development, operational, and business teams. The company's Jira Service Management solution was the fastest-growing product by new customer count in 2020 included in this report. Atlassian recently announced an end of support for on-premise servers, meaning the company is going full-on in the cloud going forward.
Leading the Niche Players in this edition of the report, Micro Focus delivers a service management platform with fit-for-purpose ITSM and IT asset management. In addition to enhancing its ITSM content, the company is expanding integration and interaction mechanisms as well as its integration with Microsoft Teams. Artificial intelligence and machine learning isn't currently a major focus for the company, but that may change in the future.
Another Niche Player, Axios Systems, extends ITSM across multiple engagement channels augmented by IT operations management and IT business management capabilities. Recently acquired by IFS in June, Axios now has greater cross-sell and integration opportunities across IFS's broad portfolio. This includes IFS's enterprise resource planning, enterprise asset management, and field service management products.
EasyVista is a French company that typically focuses on midsize vendors in France, Southern Europe, and North America. The vendor frequently ran targeted marketing campaigns in 2020 to drive awareness of its solution in the ITSM market. EasyVista received funding from Eurazeo in 2020 and acquired remote management vendor Goverlan in July 2021, expanding its growth potential.
ManageEngine is developing a module-agnostic graphical workflow builder and a marketplace for integrations for its ServiceDesk Plus solution. The company's broad portfolio of complementary products helps boost its position in the ITSM market. Over the past year, ManageEngine has ramped up its efforts in targeted marketing campaigns to help drive interested users to the company's toolset.
SysAid is focused on providing core ITSM capabilities on a low-code platform with rapid time to value. The company is planning to add advanced analytics via planned features and adding out-of-the-box automation scripts to improve its Automate Joe orchestration platform. SysAid's marketing includes raffles and music videos, indicating a unique approach to attracting more niche customers than its competitors.
The last Niche Player on the list, USU offers a one-stop solution for everything an IT organization needs to deliver services to its company. While its current operations mainly focus on Germany, its deep regional focus make it popular with clients. Gartner commenede the company for its collaborative approach to its product roadmap, developed in coordination with its customers.
---
Looking for a solution to help you improve your network performance? Our Network Monitoring Buyer's Guide contains profiles on the top network performance monitor vendors, as well as questions you should ask providers and yourself before buying.
Check us out on Twitter for the latest in Network Monitoring news and developments!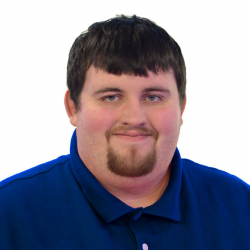 Latest posts by Daniel Hein
(see all)