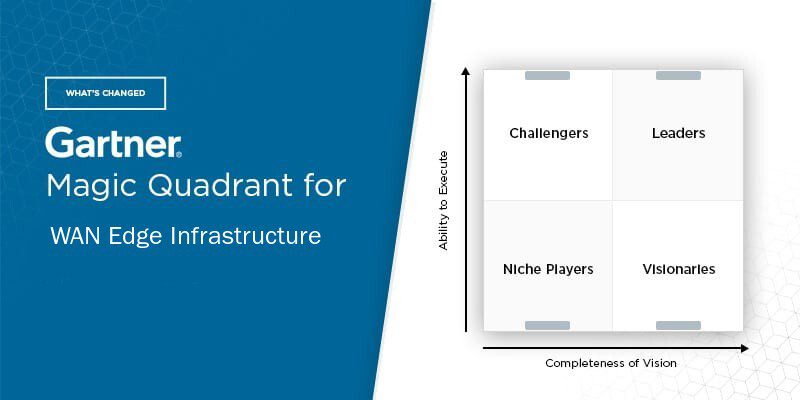 The editors at Solutions Review highlight what's changed since the last iteration of Gartner's Magic Quadrant for WAN Edge Infrastructure and provide an analysis of the new report.
Analyst house Gartner, Inc. has released its 2021 Magic Quadrant for WAN Edge Infrastructure. The researcher defines the wide-area network (WAN) edge infrastructure market as, "products and associated functions that provide network connectivity across the WAN. This connects distributed enterprise locations to access resources in private data centers, as well as Infrastructure as a Service (IaaS) and Software as a Service (SaaS)." Additionally, the most prominent products associated with this market are routers and SD-WAN appliances (both physical and virtual).
This space is migrating from traditional branch routers to software-defined wide-area networks (SD-WAN), which offer a more decentralized architecture and cloud workloads. The WAN edge infrastructure market also includes emerging vendors from adjacent markets, including routing, security, WAN optimization, and SD-WAN. Additionally, the field includes zero-trust network access (ZTNA) functionality for remote workers in lieu of traditional virtual private network (VPN) solutions.
Digital transformation, remote work, and cloud adoption are infrastructure and operations leaders' primary factors for selecting WAN edge infrastructure tools. Gartner suggests that these professionals should choose SD-WAN and secure access service edge (SASE) deployments in order to connect enterprise sites and applications. The researcher also projects that by 2024, over 70 percent of SD-WAN customers will have implemented a SASE architecture, compared with 40 percent in 2021.
In the future, Gartner predicts that the WAN edge infrastructure market will move towards more autonomous and self-driving networks where artificial intelligence and machine learning can be leveraged to make networking choices with limited human intervention. Though these capabilities are still in their early stages in many providers' product development, they are being incorporated into a growing number of solutions offering differentiation.
In this Magic Quadrant, Gartner evaluates the strengths and weaknesses of 15 providers that it considers most significant in the marketplace and provides readers with a graph (the Magic Quadrant) plotting the vendors based on their Ability to Execute and their Completeness of Vision. The graph is divided into four quadrants: niche players, challengers, visionaries, and leaders. At Solutions Review, we read the report, available here, and pulled out the key takeaways.
Gartner adjusts its evaluation and inclusion criteria for Magic Quadrants as software markets evolve. As a result, Teldat and Silver Peak were removed for no longer meeting Gartner's inclusion criteria. The firm specified that Silver Peak was dropped because it was acquired by HPE. Representative vendors include Barracuda, Cisco, Citrix, Cradlepoint, FatPipe Networks, Fortinet, HPE, Huawei, Juniper Networks, Nuage Networks, Palo Alto Networks, Peplink, Riverbed, Versa Networks, and VMware.
Landing in the leader quadrant once again, Fortinet tops the report this year with regard to its ability to execute. This placement is potentially due to Fortinet's WAN edge product delivering solid application performance optimization and SD-WAN capabilities. Fortinet's closest competitor, winning out in its completeness of vision, is VMware. The vendor's success could be attributed to its ability to provide a fully integrated, single-vendor SASE solution that aligns with the needs of customers. HPE (Aruba and Silver Peak) is placed closest to the X and Y axes in the leader quadrant this year. The provider solves a wide range of use cases across both product lines and its strategy is well-aligned to reach a broad set of customers.
Versa Networks, Palo Alto Networks, and Cisco are the remaining leaders in this year's report, placed close together in a small cluster. According to Gartner, Versa Networks boasts one of the most complete single-vendor SASE solutions on the market, which could account for its leader status. Palo Alto Networks operates globally and is expected to continue investing in integrated SASE, AIOps, autonomous digital experience monitoring (DEM), and multi-cloud in the coming years. Rounding out the leader category, Cisco stands out by delivering strong visibility for traffic traversing the internet and to public cloud services, enabled by Thousand Eyes.
The visionaries section of the graph is the least populated this year, with Juniper Networks being the only vendor. The placement of Juniper Networks is possibly because of its conversational user interface, as well as the fact that its solution can be delivered in a tunnel-less architecture.
Similar to last year, this year's challengers are Huawei and Citrix. According to Gartner, Citrix has one of the broadest sets of capabilities in this report, including SD-WAN, application performance optimization, security, and cloud connectivity. Huawei scored slightly higher than Citrix in its ability to execute. This placement could be attributed to the vendor's strong channel ecosystem and large installed base in the enterprise market.
The niche player quadrant is as dense as the leader quadrant this year, both holding six vendors. Cradlepoint is closest to the Y-axis, likely because it is extremely focused on and has robust capabilities supporting 4G and 5G use cases. Nuage Networks, which is placed close to Cradlepoint, was one of the first vendors in the SD-WAN market, giving it a track record of credibility and long-term viability. Also a niche player this year, Barracuda has tight integration with Microsoft Azure, offering Azure global network as a communication backbone with bandwidth-on-demand.
Rounding out the niche players are Peplink, Riverbed, and FatPipe Networks. While Peplink lacks rich SD-WAN functionality, it has strong capabilities aimed at wireless WAN use cases. Riverbed earns its place as a niche player by way of being a well-known brand in the networking space with a large base of customers that are likely to upgrade to SD-WAN. Finally, FatPipe Networks touts a lengthy track record in the WAN market and its application performance-optimized SD-WAN offering delivers an enhanced user experience.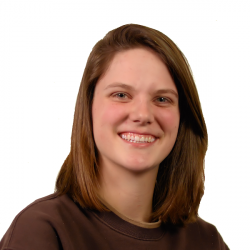 Latest posts by Tess Hanna
(see all)